Google Pay Task Wall Offer: Today, I will introduce a new Task wall offer with Google Pay.
After using Google Pay and completing tasks to get the below gains:
Cashback on online tasks.
Up to Rs 600 cashback on payments.
Make payments and win rewards.
And more gains.
Indeed:
I have done various online tasks on Google Pay like the Super wall offer and Indi Home offer.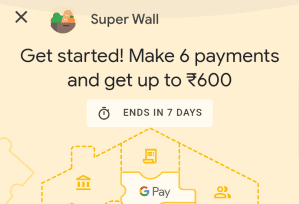 Have you heard about these offers, which I have mentioned above? If not, open the link below to check these offers.
Let's dive down into this offer to get!
Google Pay formerly known as Google Tez is the best digital and secure payment platform launched by the world's best and search engine named Google.
Today, Google Tez is Google Pay, so that you will get Google Pay, not Google Tez from the Android store or IOS store.
Currently, it has brought a new task wall offer for its customers/users to earn cashback up to Rs 600 in the bank account.
Also check:
Are you excited about following the below steps? Also, read every term below.
Google Pay Task Wall Offer Terms:
1. Make Payments and Get Up to Rs 600
1) The customers will receive a cashback reward from the Google Pay platform after performing every task.
2) Customer/users will earn cashback up to Rs 600 directly to the bank account through the Google Pay platform.
3) This offer will be applicable only to collect all the stamps for making online payments on recharge, bills, money transfers, etc.
4) It will end within seven days from the activation date and make money transfers.
5) Minimum order value is Rs 50 to complete every offer and avail of the cashback offer benefits.
How to Avail Google Pay Task Wall Offer:
1) First, tap on the Google Pay website and search for the simple app from its web platform.
2) After that, download the app on your smart device and activate a free account by tapping on it.
3) Thirdly, signup with an existing Google or Facebook accounts or open a free account with unique account details.
4) When you go to the homepage, scroll down or press the main page to link your bank account.
5) After that, add the bank name, card number, CVV number, or more details it is asking you.
6) Verify your account and set up your Google PIN and fingerprint to secure your account from hackers.
7) Then, return to the dashboard and check out the offer wall banner from the offer section, and you can find more rewards.
8) Next, complete the first task: make your online prepaid recharge on the Google Pay of Rs 50 to collect stamps.
9) Make tasks one by one, and you will receive cashback up to Rs 600 into your account.
Conclusion:
Participate in this offer deal and complete every task on Google Pay to earn a reward.
How many tasks did you complete after reading the half posts?
Comment a proper answer down below and check these free recharge offers.
Google Pay Task Wall Offer FAQs:
Is Google Pay Task Wall activated?
Yes, the Google Pay users can join this offer directly from its platform and receive benefits after activating it.
How much cashback did you earned on Google Pay?
Cashback value depend on the offer wall and if you join current offer and complete it, then you will earn up to Rs 600 cashback.
At this Point Check Related Offers:
Finally Watch Related Video:
Get more experience of this offer after streaming this video.
Google Pay Super Wall Offer Unlimited Trick || GPay Super Wall Offer 2022 | Google Pay New Offer