Hamleys ICICI Offer: In this offer post, I will tell you about a new ICICI offer with the Hamleys company.
Buy any products from Hamleys and receive the various rewards:
Cashback on online payments.
10% cashback reward on a transaction.
Extra 30% Off on 3000 Products.
And more rewards.
Which platform do you use to purchase toys for kids? If you have already used it or know about it.
Then you can easily use this platform and avail all the above advantages for free. Some of the users need more attention while shopping.
So let we can start from here to learn about the Hamleys' offer!
Hamleys is a toy shopping company that delivers or sells toy items for every age user, either 18-36 months, 7-9 years, or more 12+ age.
Get the best deals or promotions of Hamleys after becoming a member. In addition, the Hamleys is introducing a new offer with its partner bank named ICICI.
Now, the every customer can get a maximum cashback reward of up to Rs 4,000. Find the best toys for every character, like Spiderman, Barbie, Harry Potter, and Avengers.
Also check:
Avail the benefits of Hamleys, and you have to read the offer terms and steps.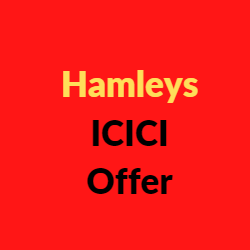 Hamleys ICICI Offer Terms:
1. 10% Cashback on ICICI Payments
1) Customers who purchase products from Hamleys will get cashback value after payments.
2) Hamleys issued only a 10% cashback reward for the ICICI bank users who make a payment with these bank cards.
3) The maximum cashback value is up to Rs 4,000, and the offer applies to every ICICI bank credit card user.
4) Minimum transaction value requires Rs 2,500 until the offer runs, and a customer can use it once per account.
5) Also, this Hamleys ICICI Offer runs for a limited time, and the offer will end on 30th November 2022.
6) Buy a toy with an ICICI bank card with a minimum amount and receive some amount.
How to Get Hamleys ICICI Offer:
1) Firstly, click the Hamleys website link from the given page or install the Hamleys app on your device.
2) Enable your home location by adding a ZIP code or details and tap on the login button to visit there.
3) Continue by adding the mobile number or a verification code and submit your information.
4) After signing in and going to the Hamleys page, search for any items from the above category or search from the header bar.
5) Now, click on your searchable items to ensure your product and read the product description.
6) Add this product to your basket and make sure you will buy the product from there so you get your entitled reward.
7) Next, move to your basket to check the product, and if you want multiple products, then add more items.
8) If the ICICI bank card is not activated, activate the card from your bank or use a friend's bank card.
9) Return to your Hamleys basket and confirm your order by adding the bank details.
10) Lastly, proceed with the payments and select only the credit card section to pay with the ICICI bank card.
Conclusion:
Avail the 10% cash back reward from Hamleys on shopping.
What categories of products did you purchase from Hamleys?
Tell me about your earned cashback, and check out some free recharge offers.
Hamleys ICICI Offer FAQs:
How can I get cashback from Hamleys?
Hamleys gives you a cashback reward only on online shopping and make a digital payment.
Is Hamleys accepts ICICI bank card?
Yes, the Hamleys customer can pay with the ICICI bank card and they can use an only ICICI credit card.
At this Point Check Related Offers:
Finally Watch Related Video:
Play a video to watch about the Hamleys: The Finest toy shop.
Hamleys - The Finest Toy Shop in the World!