How to Transfer Money from PhonePe to Bank Account: Did you just enrolled in Digital India Initiative?
What the crap question I am asking you right?
Using the PhonePe app equals enrolling in the Digital India Initiative of prime minister Narendra Modi?
I am joking, Don't take it seriously,
I am just putting some chili powder on the Mission.
Want to Transfer Money from PhonePe to Bank?
Coming back to the topics of PhonePe,
So Are you looking for some solutions to how to transfer money from PhonePe to a bank account?
Don't worry, You are not landed in the wrong place,
Means, you are landed on the correct page,
Why I am not giving you the proper answer to your question?
This might have come to your mind, isn't it?
Then you are not alone, Everyone who this reading this article from the starting has the same level of thinking.
So let's talk about your question on how to transfer money from PhonePe to the bank account?
Because this is the only reason you are reading this and giving you too expensive time.
Look, if you want to transfer your money from your PhonePe account to another bank account, then you need to download the PhonePe app,
Really? Yes, without a PhonePe app you can't do this for the reason that PhonePe doesn't allow their users to transfer money without the PhonePe app.
In case, you already have a PhonePe app installed on your smartphone then you are on the right path. Carry on your reading this article.
So to know your simple answer to the question above follows the steps given below.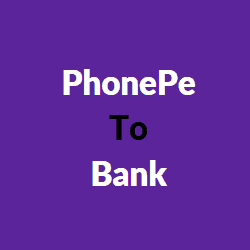 How to Transfer Money from PhonePe to Bank Account:
1) First of all, you if don't have the PhonePe app then download or update it from Offer Page
2) Now login or register a new account on PhonePe with your legit details.
3) Then Goto PhonePe app home page, there search for account option.
4) Then click on it and then enter your receiver account details and other details like, account number, IFSC code, and name, and other required details which are asked there.
5) Now click on proceed and then enter the amount you want to send to the receiver, let say Rs 1000.
6) Then again click on proceed and select your payment method from which you want to pay the money to the receiver.
7) Here you are the sender and the person to whom you want to send money is the receiver, so don't get confused here.
More steps to follow:
8) Then complete your send money transaction, and now relax for a few seconds.
9) Within a few seconds, the receiver to which you want to send money will receive the money in their PhonePe linked bank account.
10) Your receiver can check the received balance in their PhonePe account or in the bank passbook which is linked t the PhonePe app.
11) If your receiver didn't receive the money within 24 hours, then ask him to wait till 48 hours.
12) After 48 hours, if your receiver still didn't receive the money then you have to create a ticket in the PhonePe app of your transaction.
13) Then PhonePe customer support will tell you where your money is and how much time it takes to credit in the receiver bank account.
14) In most cases about 99.9% of your money credit to the receiver account within a few minutes. But if it taking more than 48 hours then just create a ticket in the PhonePe app and sit back and relax. The PhonePe team will handle the problem and assist you.
To conclude, If you like this article on How to transfer money from PhonePe to a bank account then share this article with your friends who need it the most, which means who are new on PhonePe.

Also, for more check some free recharge offers and save on your next month's recharge.

Transfer Money from PhonePe to Bank Account FAQ:
How to delete Phonepe account?
There are different ways to deactivate or delete your PhonePe Account, You can do this manually by going in the profile section of the PhonePe app and the other way is by asking the PhonePe customer care.
Deleting Phonepe account is Right decision?
The decision depends upon you, If you want to keep the account then you can keep it. However, it is safe to keep the PhonePe account, PhonePe doesn't charge anyone a single penny.
How to use PhonePe?
PhonePe is another Payments app like Paytm and Google Pay. But on PhonePe, you will get the scratch card on using the account or by doing a transaction or by referring a friend. While on Paytm you get cashback in Paytm wallet and in Google Pay you will also get a scratch card like PhonePe..
How to add money in PhonePe?
On PhonePe you can add money in your Paytm wallet. There is no other method to add money to PhonePe other than the PhonePe wallet. So you need to download the app to add money to PhonePe.
At this Point Check Related Offers:
Finally Watch Related Video:
PhonePe Money Transfer To Bank Account