Huggies Free Sample: In this post, I will determine a free sample from the Huggies platform.
Register on the Huggies web platform and get all the below advantages:
Huggies free product sample.
Free items at Rs 0.
No shipping charges.
And more advantages.
In Fact:
I have brought a free sample for my nephew from this Huggies platform.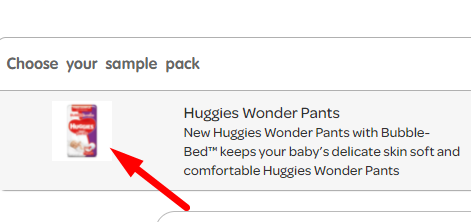 Do you want to purchase a free sample product from Huggies? If yes.
Then let's dive right into this offer and order one for your little one!
Huggies is a USA brand platform that provides many disposable diapers for its customer globally, and it provides its products to more than 150 countries.
In India, Kimberly-Clarke Lever runs the Huggies platform and continuously providing its services across the nation.
Huggies have various types of diaper range such as New Born, Dry Pants, Wonder Pants, Ultra Soft, Dry Tapped Diapers, and wipes.
Additionally, it has many categories like Pregnancy, Products, Newborn, active baby, and Pregnancy tools. This platform is most helpful for a lady.
If your baby child matches with the Huggies born details and product size, you can order the online Huggies product items for free in the form of a free sample.
Also, you can order bundles of diapers at a considerable discount price. Apart from that, it designed various types of pregnancy tools such as Ovulation calculator, Due date calculator, and baby names generator.
Also check:
Are you excited to join the Huggies platform for free samples?
Then read the below terms and steps.
Huggies Free Sample Terms:
1. Get Free Huggies Products At Rs 0
1) Free sample product is available for all participator if they log in with a Facebook account or register a new account.
2) Appropriator's age must be more than 18 years for receiving the Huggies free sample items.
3) Without agreeing to the terms, users will not be eligible to get any samples.
4) This Huggies free sample does not require any shipping/delivery charges and no minimum transaction.
5) Born baby age must be entered during registering on the Huggies platform.
How to Get Free Huggies Product At Rs 0:
1) First of all, go to the Huggies website from the given link on your smartphone.
2) After opening the page, slightly scroll the page > you will see a registration form given below.
3) Now, log in to your account with existing Facebook account information or enter details.
4) Enter your first name, last name, Baby's DOB/Due date, mobile number, and email address.
5) After that, tick on both the terms for receiving your entitled free sample product items.
6) Then, you have to add more details like pin code, address, pin code, state, and city.
7) Next, click on the join option to register yourself as a participator.
8) After that, you will get a message of a free sample on your home screen.
9) You will get your product within a few days > just open it and check your product sample.
10) If the receive an empty box then create a ticket on the Huggies platform.
Conclusion:
Want to get a free product for your baby? Then make an account on the Huggies web platform.
What is the age of your baby or your little one?
Mention age in the comment box and check out free recharge offers for benefits.
Huggies Free Sample FAQs:
Is Huggies provides free products?
Huggies provides free product in the sample form.
Does Huggies takes Charge?
No, Huggies does not take an additional charge from its customers.
At this Point Check Related Offers:
Finally Watch Related Video:
Watch this free sample offer video and know how to get free products using the Huggies platform.
Huggies free sample diaper for baby | how to get free product | Huggies wonder pants