ICICI Direct Refer and Earn: Here I am going to tell you about a new banking platform named ICICI Direct.
After installing the ICICI Direct app, you will get the below benefits:
In fact:
I have received Rs 500 in a bank account from the ICICI Direct app.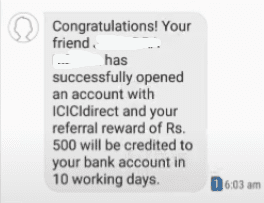 Do you want to ready to grab the benefits from this ICICI Direct app?
Let's dive deeper into the referral program!
ICICI Direct is a platform that provides direct account opening service from home.
The ICICI Direct App is not only a banking platform, but the user can start trading with minimal investment.
Also in this platform users can start trading and intraday starting at Rs 15 but there is delivery from 0.15% to  0.25% with margin funding starting at 8.9% p.a.
Additionally, this platform provides services which are equity, Mutual fund, Derivative currency, IPO, commodity, insurance, loan, FD & bonds, NPS, and so on.
Furthermore, It is the best financial product distributor in our country and is trusted by over 5 million customers and 170+ branches across India.
From the top of the page, directly users can check live prices of stocks such as Sensex, Nifty, Bankex, Midcap, Gold, and silver, etc.
Also check:
Have you ever listen to this type of app that offers both a free trading account and a direct account?
If your answer is no. Then follow all the below-given steps and use the ICICI referral code.
ICICI Direct Refer and Earn Terms:
1. Get Rs 500 on Referring | Referral Code
1) If the referee will join with a friend's refer and earn code or link and his account is activated then the referrer will get Rs 500 instantly to the ICICI Direct bank account.
2) Also, the referee will get a free Demat and trading account with the additional benefit worth Rs 11,673.
3) The user can send their referral link to many friends many times but in one day they can share only 5 friends and family members.
4) There are no tax charges to withdraw the referral income.
How to Get Rs 500 on Referring:
1) Firstly visit the ICICI Direct website from the Offer Page.
2) Secondly download the ICICI Direct app on your smartphone.
3) Thirdly enter your mobile number (for verification code), PAN card number, DOB (date of birth), email id, etc.
4) Fourthly use this ICICI Direct referral code:  7000907233 (optional).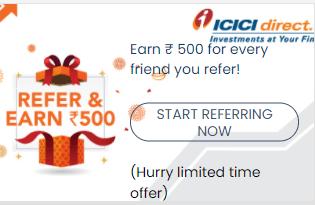 5) Now use the verification code for a successful account, verify it.
6) After entering all necessary information click on the submit button > you will be redirected to the login page.
7) Now enter your user/Login id, password, DOB (date of birth)/ PAN (permanent account number).
8) After that your account will be activated within 24 business hours.
9) After that you will be successfully logged in and your ICICI Direct bank account information appears in the app.
10) Now you can see your referral income through the app wallet.
11) Lastly you can use pay your referral cash at any time and any store.
How to Share the ICICI Direct Refer and Earn: 
1) To share the referral code > tap on the app icon or visit the ICICI Direct website on your smartphone.
2) Now continue with your existing Login account.
3) Now tap on the hamburger button from the left top corner.
4) After that click on the Refer & Earn option from the menu bar in the ICICI Direct app.
5) Now enter your registered mobile number to share the referral link.
In conclusion, this is how you can take all the above benefits.

Have you use any recharge tricks, then use these free recharge tricks.

Now use the comment box to share your comments about this refer and earn post.

At this Point

Check Related Offers:
Finally Watch Related Video:
In this video, you will know how to share the ICICI referral code through the ICICI Direct app.
#CpyNetwork #ICICIdirect Earn ₹500/Refer 100% Free. अब कमाओ ₹500/रेफर वो भी 100% फ्री में।