Idea APN Settings: In this article, I am going to tell you about the Idea 3G / 4G APN settings for Android and iPhone.
When you use these APN setting then you will get:
Faster Internet connectivity.
Fast File downloading.
Uninterrupted video streaming.
And much more.
Do you want to use these APN settings in your Android or iPhone?
Let me tell you about the setting step-by-step.
I hope you already know APN and GPRS technical terms, Am I right?
In brief, APN stands for Access Points Name, and GPRS stands for General Packet Radio Service. In case, If you want to know more about the APN and GPRS then checkout this Jio APN settings post,
Moreover, The Access Points Name and General Packet Radio Service enable your device to connect with the internet.
Most of the users are using Android smartphones and Android supports two types of networks,
The first one is  GSM (Global System for Mobile Communications), and the second one is DMA (Direct memory access).
When your device connects with the GSM network, it uses General Packet Radio Service to transfer the data, and DMA is used for intra-chip data transfer.
For Example: If you are using an Idea sim card in your smartphone and you want to access the internet connection on your smartphone then, you have to install the Access points setting in your smartphone and then you have to turn on your smartphone data to surf the internet.
On the whole, you need to install the APN settings or Internet settings in your Android or iPhone to access the internet.
Without it, you can't access the internet.
Also check:
However, If you have already installed APN settings, then remove those and install new settings.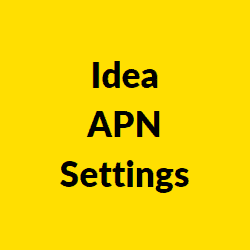 Method to Install 3G/4G Idea APN Setting:
Method One: Using SMS For APN Settings
1) First of all turn on your smartphone and open the SMS app.
2) Then you have to click on "Compose SMS"
3) Now type "SET" and send this text on 12345 number.
4) After sending this text, you will get APN settings through SMS
5) Open the SMS and click on install to activate the setting on your smartphone.
6) You can verify your new setting by going into the "Mobile networks" > "SIM card" > "Access Point Names'
Method Two: Using Idea USSD Code
1) First of all, pick up your smartphone and insert the Idea sim card.
2) Now, turn on your smartphone and open the phone dialer app.
3) After that, type this "*121*4*15*1*1*1#" USSD code for internet settings.
4) Now you will get a pop-up on your screen with some option.
5) Reply to the option by typing 1,2,3 and then you will receive the Internet settings by SMS.
Method Three: Using APN Custom Settings
1) Unlock your smartphone and then Goto the "Mobile Setting" > "Cellular network" > "APN setting".
2) Now click on the edit profile option and then use the below table values.
| Profile Names | Idea APN Settings |
| --- | --- |
| Name | IDEA |
| APN | IMIS/Internet |
| Proxy | Enable |
| Port | 8080 |
| Username | Not set |
| Password | Not set |
| MMSC | Not set |
| Proxy address | 10.4.42.45 |
| MCC | 405 |
| MNC | 863 |
| Authentication type | Not set |
| Bearer | Unspecified |
| APN protocol | IPv6 |
| APN roaming protocol | IPv6 |
| MVNO type | None |
| Home page | www.google.com |
3) After typing the in the profile section click on the save option.
4) Now, restart your smartphone one time.
5) Then turn on your mobile data and then open any browser to enjoy the high-speed internet.
Note: The above-given 3G/4G internet setting will work on both Android and iPhone.
Check Related Articles:
Watch Related Video:
Idea new APN settings for Fast Net 2020. how to increase idea 4g internet speed.