Idea Caller Tune: In this article, I am going to tell you about the Idea caller tune number.
After reading this article you will get to know:
How to set caller tune in Idea
How to deactivate caller tune in Idea
About Idea caller tune number & code
And much more.
Do you want to activate/deactivate the caller tune?
Then carry on your reading,
Like all the other operators, the Idea is also offering free hello tune for their customers.
Earlier, this caller tune service is a paid service and Idea charge anywhere between Rs 10 to Rs 30 per month for activating the caller tune.
As of now, the service is free of cost for the Idea subscribers/customers and anyone can activate it for free.
There are various methods to activate the Idea hello tune on a working Idea mobile number. And in this article, I will tell you about the same.
Also check:
Apart from the activation methods, I will also tell you how you can deactivate or stop the hello tune on an Idea mobile number.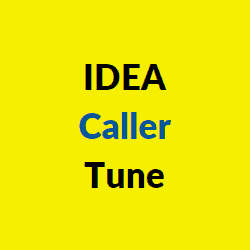 How to Set Idea Caller Tune in Idea:
Are you ready to know more about the idea hello tune code?
Then head to the below-given section which contains lots of methods.
Method One: Activate tune Using Idea Number
1) First of all, insert an Idea sim card on your mobile phone or on your smartphone.
2) Then open the dialer app on your smartphone and then type below-given USSD code.
3) Dial this Idea caller tune USSD code: *696#
4) Now you will get a pop up on your screen.
5) Then follow the on-screen instruction and then press a key to activate the hello tune of different songs.
Method Two: Activate tune Using SMS
1) Firstly, open your smartphone and then open your SMS app.
2) After opening the SMS app, compose an SMS and then type the below-given text.
3) Type the song or film or album name and then send it on this number: 567890
4) This 567890 number is a toll-free number.
5) Send the SMS in this format: song > send it on 567890
6) You can also type the film or album name in place on the Song name.
7) Then your hello tune will be activated within a few hours.
Method Three: Activate tune Using Idea Website
1) To activate the caller tune using the Idea official webiste follow the below steps.
2) First of all Goto the Idea caller tune website and then select any song by scrolling down.
3) Then click on the set song option and then preview the song and in the next step enter your mobile number.
4) Make sure to click on the specific hello tune option, and then click on the Activate button.
5) Now your hello tune will be activated on your mobile number within a few hours.
Method Four: Activate tune Using Idea App
1) First of all download the Idea Dailer tones app from the Google Play store.
2) Now click on the install button on the Google play store.
3) After that, open the app and then tap on the Hello tunes Icon.
4) Then search for your favorite song and then play it to review your hello tune.
5) Now click on the activate button and then enjoy hello tune for the next 30 days.
How to Deactivate Caller tune in Idea:
1) To deactivate caller tune on your 10 digits mobile number you have to follow the below-given steps
2) First, of all insert your Idea sim card on your smartphone or mobile phone.
3) Then open the SMS app on the smartphone and type the below-given text in the SMS app.
4) Type "STOP" and then send this SMS on this number: 15522
5) You can also call on this number: 155223 to deactivate or stop the hello tune.
Now I want to hear from you. Do you have any queries?

Did you like this  Idea caller tune post? If your answer is yes then share it with your friends!

Do check some free recharge offers, and Recharge apps, for some benefits.

Also, check Airtel free internet post for some extra internet in Airtel SIM and check Jio free Internet post for extra Internet in Jio sim card.

Check Related Article:
Watch Related Video:
idea caller tune kaise set kare | how to set idea caller tune free | number | idea dialer tone