Idea DND: In this article, I am going to cover about Idea Do Not Disturb service.
After reading this article you will know:
How to Activate Idea DND.
How to use Idea do not disturb service
Methods to activate DND in Idea
And a lot more.
Do you want to know about the activation methods?
Let get's started!
Do you know what is DND?
Well, Do Not Disturb is an initiative by TRAI (Telecom Regulatory Authority Of India) it is an operator's service in which they tell their subscriber about their best offers, talk time offer, recharge offers, and sometimes they ask for the feedback.
You might receive these useless calls very often, maybe every week or sometimes every next day, this is crap for you, isn't it?
To get rid of these unwanted calls I will tell you some best methods that you should know about.
Is Do Not Disturb service consist of calls only? No, you might also receive SMS instead of calls from your internet service provider Idea.
So do you want to know about the methods to stop these calls and SMS?
Just follow below mention steps.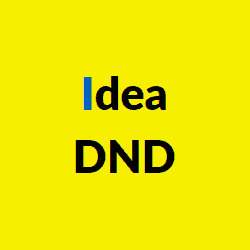 How To Activate Idea DND Service:
Method one: Activate Using Number
1) First of all, pick your smartphone in your hands and open the dialer app.
2) After opening the dialer app call on 198 / 1909.
3) 198 is the Idea customer care number.
4) When the call connects to customer care ask them to activate DND.
5) In case if you get rid of all commercial calls then ask to activate FULL dnd.
6) Note: Full dnd mean stop Receiving commercial calls completely.
Method Two: Activate DND Using SMS
1) In this method, first of all, open your SMS app.
2) After opening the SMS app clicks on composing a message.
3) Type "START DND" and send it to 1909 or 198.
5) Within a few minutes, you will receive a successful message.
6) Following this method, you can get rid of all DND services.
What you do if you activate DND service and then you to deactivate this service, don't worry carry on reading to know how to deactivate Do not disturb in the idea.
Method three: Activate Using Site
1) This is the online method and you must like this.
2) First of all Goto idea official website from This Page.
3) Then in Do not disturb the complaints section select or enter your details like subject, circle, etc.
4) Now enter the captcha code given in the list and click on the submit button.
5) Like other methods, this will also take 7 days to activate Do not disturb.
How to Activate DND by Preference Number:
This method is same as above given SMS method but in this method, you can activate do not disturb service category wise,
For example: You want to activate Do not disturb service for health and not for recharge offers, Talktime offers then you can activate DND service only for health calls and SMS.
All you need to send an SMS on the below-given preference code.  START<space><preference no> to 1909.
| Code | Detail |
| --- | --- |
| START 0 | Fully blocked |
| START 1 | Banking, Insurance |
| START 2 | Real Estate |
| START 3 | Education |
| START 4 | Health |
| START 5 | Consumer goods |
| START 6 | Communication, Broadcasting |
| START 7 | Tourism and Leisure |
How to Deactivate Idea DND Service:
To deactivate DND service pone your SMS app.
Click on create a new message.
Then type "STOP DND" and send it to 1909.
Within 7 days you will receive an SMS that you have successfully deactivated Do Not Disturb.
Deactivating Do Not Disturb service in the idea is more simple than activating DND service, Right?
Share this article with your loved ones your friends, family, or your Neighbors.
If you have any query in your mind then let us know in the comments section.
Check Related Articles:
Watch Related video:
Activate DND | STOP or BLOCK Unwanted Promotional SMS & Calls | Do Not Disturb Service in INDIA