ISRO Free Online Course: I have an excellent free deal for you that come from the ISRO platform.
Take a simple step to join ISRO and receive all the following profits:
3 Months free course.
Courses are available at Rs 0.
Register and get free certificates.
And more profits.
To be sure:
When I was in school, I purchased the ISRO free course and completed it with the certificate.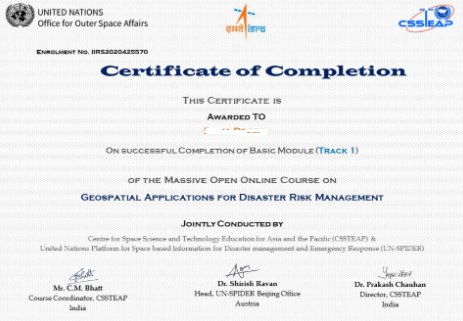 What are you planning for the future? Are you interested in joining the ISRO and want to avail the free online courses? Say yes and grab this offer deal.
Now, raise your wings to fly and touch the ISRO!
ISRO (Indian space research organization) is an Indian national space agency responsible for sending spacecraft or launchers into space or the universe.
Every year, it provides career opportunities for new users, and those who are eligible or interested, then they can join it.
Moreover, the ISRO has come with unique opportunities and provides various free courses like global navigation, GIS, RS, and GIS applications.
Also check:
The mentioned course links are available and accessible to all. You can join it and avail of the free courses.
ISRO Free Online Course Terms:
1. Get a Free Online Course with a Certificate
1) The participants can get a free course from the ISRO after successful registration on the ISRO government website.
2) Participants need to verify all their identities related to the college, school, and other government-issued documents.
3) Also, this offer has limited validity for every course, and there will be no value required to pay an amount for free courses.
4) Undergraduate and postgraduate students can apply for the ISRO course and enhance their knowledge.
5) Maintain your attendance on the online learning portal to avail the free certificates.
How to Avail the ISRO Free Online Course:
1) Firstly, tap on the e-learning ISRO website link from the given page and visit the page to start the process.
2) After that, a signup form will open and complete your registration with the unique details.
3) Enter your full name as per class 10 certificate, email address, password (maximum length 8), and displayed code.
4) When you submit your application, the activation link will be sent to your registered email address.
5) Visit the inbox or spam section to check the link and verify your account > then select any free and available course.
6) After that, select the course name, mode of registration, and nodal center, the course, and proceed to add more personal details.
7) Next, select salutation, father name, gender, mobile number, full name, date of birth (DOB), city, country, and ZIP code.
8) Then, add your education details such as highest qualification, significant subjects, board/institute, and years of passing.
9) Next, upload the photo of your document, identification proof, and Aadhar number, and then preview your details.
10) Confirm your information and proceed, then, you will receive the registration number for future communication.
11) This free course is added to your account, and you can access it anytime.
Conclusion:
Check out all the free online course from the ISRO platform.
Which course did you select to buy under ISRO free online course offer?
Name your free course in the comment section and visit the EarningKart homepage from the free recharge offers link.
ISRO Free Online Course FAQs:
How can I get ISRO free online course?
You can get free ISRO courses from this platform after doing enrollment.
How can I get ISRO certificate online?
Register on the ISRO, then purchase course and complete it to avail the free certificates.
At this Point Check Related Offers:
Finally Watch Related Video:
The entire process of ISRO registration is digitally from this video.
A-Z Registration Process of ISRO Free Online Courses फ्री में घर बैठे करे क्लास और पाये Certificate