Jiomart WhatsApp Offer: In this offer post, I will determine you a new WhatsApp offer with the Jiomart platform.
Make your order on the Jiomart platform and get the real advantages:
30% discount on orders.
Up to Rs 120 on payments.
Save on grocery orders.
And more advantages.
Already, I have activated my WhatsApp UPI for the payments, and I will be used in several places for prices.
Do you want to pay with this new UPI payment gateway? If you want, then keep your eye on this offer.
Now go ahead and join this offer deal!
Jiomart is a grocery shopping company that provides its service nationwide offline and online. Buy groceries online as your daily needs and save more money.
Currently, this company is introducing an offer which comes after a long time. Jiomart and WhatsApp have made a strong connection in between and providing this offer.
Those customers who use both companies for single or multiple orders definitely get the 30% discount.
Also check:
Do not take the wrong steps. Follow only these mentioned steps to get the proper reward.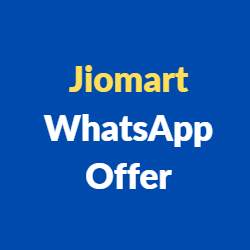 Jiomart WhatsApp Offer:
1. Get a 30% Discount on Orders
1) Customers can get a 30% discount from the Jiomart store if they pay with the online UPI method.
2) Maximum discount value is up to Rs 120 for every customer, and they will get on making a payment.
3) Minimum transaction value for a grocery order is Rs 250, and the offer is applicable once per user per account.
4) Also, this Jiomart WhatsApp UPI Offer runs for a short time, so eligible customers can take benefits from this offer.
5) Begin your transaction with the WhatsApp UPI of minimum order value to save your money.
How to Avail Jiomart WhatsApp Offer:
1) Firstly, go to the Jiomart website link from here, and you will land on the page.
2) Offer is applicable for App and web users so that you can download its app from the Google store.
3) After that, sign in with an existing account or add good details to become a new Jiomart member.
4) Tap on the signup tab on the above page to open it and enter your mobile number and a login code.
5) Verification code will be sent to your address, and use it to log in to your account, then search for the grocery items.
6) Alternatively, check grocery products or electronic items from given catalogs like staples, vegetables, dairy, fruits, bakery, and more.
7) You get the items according to your search, put them into the cart, and ensure purchase.
8) I have told you in the offer terms about WhatsApp UPI, so activate your WhatsApp UPI to make a payment.
9) Go to WhatsApp, click on the right above icon > and select payment to activate it.
10) If it is activated, return to the Jiomart cart section to recheck your order items, whether they are out of stock or not.
11) Then, add home details and choose the UPI payment option to complete your order.
Conclusion:
Redeem this UPI Offers to get benefits and save money.
How much discount amount did you save under this offer?
Comment the amount in the below box and check some free recharge offers.
Jiomart WhatsApp Offer FAQs:
Is Jiomart accepts WhatsApp payment?
Jiomart customers can use WhatsApp UPI payment to make a payment.
Does Jiomart offers 30% Discounts?
Yes, the Jiomart provides you a 30% discount offer and if you completely use it, then no one will stop you to save 30%.
At this Point Check Related Offers:
Finally Watch Related Video:
Watch the video of Jiomart shopping with WhatsApp.
JioMart Shopping on WhatsApp