Kotak Bookmyshow Offer: I will discuss a new Bookmyshow offer with Kotak bank.
Get many more advantages from the Bookmyshow after using it:
20% discount on ticket bookings.
Save up to Rs 100 on bookings.
Instant savings on Kotak bank cards.
And much more.
Are you a Movie lover? Well, I watched Hobbs and Shaw last time,
What about you? Which movie did you watch last time? Which type of movie do you love to watch? Action, Romance, Adventure, Comedy, horror?
I love to listen to your thoughts and speak your mind in the comment section below!
So, do you have a Kotak account? So many questions I am asking you, isn't it? Ok, I will not ask you a question from now on.
Is this, Ok? Last question! I hope it is. So Now Kotak is offering a 20% discount. When you book a movie ticket, you will get a discount of up to Rs 100 on your registered email id.
Make sure you answer my above-asked question. Otherwise, I will ask you more questions next time.
Also check:
Are you excited for this offer? Ok, let me tell you the process step by step.
Follow the below steps to know more about this offer, and tell me in the comment section below if you like this offer.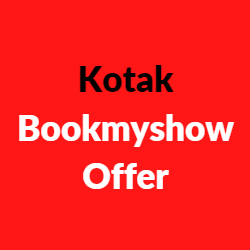 Kotak Bookmyshow Offer Terms:
1. Get a 20% Discount Up to INR 100
1) Promo code will only be adjusted against the ticket cost, and the code is auto-applied at the checkout page.
2) Bookmyshow convenience fees, and the user shall bear any additional transaction amount.
3) This offer is applicable twice per customer per card in a month until the offer expires.
4) Users can save up to Rs 100 on movie tickets, and this Kotak Bookmyshow offer will end on 31st Mar 2023.
5) Offer works on all days of the week and applies to movies, events, plays, sports & activities, and concerts.
6) Make an online payment with the Kotak bank Rupay credit card.
How to Avail this Bookmyshow Offer:
1) First, go to the Kotak bank website from Offer Page.
2) Now click on apply now button and click on proceed, and you will be asked to enter the captcha.
3) Now enter the captcha code, and tick YES or NO on this "Do you Have Kotak Bank Account?" question.
4) If you select, No, you will be asked to enter your mobile number.
5) When you enter your mobile number, then you will be asked to enter a one-time password.
6) Enter your other details on the Kotak website and activate your Kotak Rupay credit card.
7) Afterward, go to the Bookmyshow, then choose a movie and book movie tickets to get a huge discount of up to Rs 100 on Bookmyshow on your email id.
Conclusion:
Activate this offer from the Bookmyshow and avail it for free.
Which movie ticket did your purchase?
Comment me with the name below and explore the free recharge offers.
Kotak Bookmyshow Offer FAQs:
How to cancel tickets in Bookmyshow?
Goto the Bookmyshow app, order section and from there you can cancel tickets.
What is m ticket on Bookmyshow?
M-ticket is a kind of digital ticket that is stored in your BMS account.
How to get refund from Bookmyshow?
Firstly cancel the ticket from the Bookmyshow app and then click on the refund option on the bottom, within four hours to six hours you will get your refund back.
How to print Bookmyshow ticket?
Goto your nearest cyber cafe and open your email account where you receive your tickets, and then click on CRL+P on your computer to print your tickets.
How to refer Bookmyshow?
Goto Bookyshow app refer and earn section, there you will get all the required details.
How to download ticket from Bookmyshow?
Open your Gmail account where you received your tickets, then download or print them from there.
At this Point Check Related Offers:
Finally Watch Related Video:
Tap on the below video and stream to know about the movie ticket booking service.
BookMyShow Movie Ticket Booking Offer - Get ₹125 Cashback | BMS Gift Card Offer - Slice BMS Cashback