Kotak credit card offers: In this offer post, I will introduce new credit card offers with Kotak bank.
Make a credit card payment and receive the following benefits:
10% discount on shopping.
Rs 3000 off on online shopping.
Every Monday offers.
And more benefits.
To be sure:
I have used the Myntra app with using Myncash on online product shopping.
Have you ever used the Kotak credit card on the Myntra platform? You didn't use it. Meanwhile, I have used it twice.
So, if you want to use it for shopping, go straight into this Kotak credit card offer!
Kotak is an Indian private bank or also known as Kotak Mahindra bank, because it was launched by the Indian billionaire person named Uday Suresh Kotak.
Today, it has many Indian customers who are activated daily to make transactions to similar services.
Now, Kotak and Myntra brought this unique offer where you can get instant discounts on online shopping.
Also check:
Offer is related to the two merchants, Myntra and Kotak? Read the below offer terms and follow the reading steps.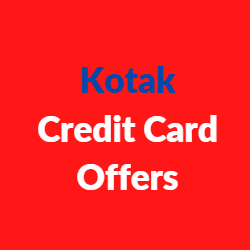 Kotak Credit Card Offers Terms:
1. Get a Flat 10% Instant Discount
1) Kotak users can save money online shopping using credit cards for Myntra payments.
2) Also, the customers will receive an instant discount from the Myntra platform after using the credit card.
3) Kotak has not issued any coupon or promo code for availing of this offer benefits.
4) Maximum discount value allows Rs 1000 for this offer and the minimum transaction value is Rs 3000.
5) Make a payment every Monday in this September month until the offer expires.
6) Also, this Kotak credit card offers is valid for credit card users, but debit card users can also use it too.
How to Avail Kotak Credit Card Offers:
1) Firstly, users need to activate the Kotak credit or debit card from their bank or download the app.
2) Alternatively, visit the Kotak website and go to the credit card section > so, tap on apply now button to get a credit card.
3) It takes some issuance fee for your credit card, so don't hesitate as your card will be issued soon.
4) Also, you can take a credit/debit card from your parents or friends to make a payment on Myntra.
5) Then, visit the Myntra webpage or download the Myntra app from the Google play store.
6) Now, log in with existing account details or enter new registration details on the signup page.
7) Enter your phone number or email address and continue with the verification code (registered on your phone).
8) Copy your code from the SMS messaging app and go back to the Myntra signup page to log in.
9) After logging in, search for any products of your choice and click to add them to the basket.
10) Lastly, go to the basket and check your product, then add the needed details of the shipping address.
11) Complete an entire payment with the Kotak credit card.
Conclusion:
Join this Kotak credit card offer deal and use it to save money.
How much amount will you want to save on the Myntra platform?
Tell me in the box and checkout the free recharge offers.
Kotak Credit Card Offers FAQs:
Is Myntra accepts credit card payments?
Yes, Myntra accepts the payments of credit card, when you checkout the product and add details of it.
How can I apply credit card payments?
When you visit to the Myntra checkout page, then it asks you for the payments, so enter the credit card details and make an online transactions.
At this Point Check Related Offers:
Finally Watch Related Video:
Tap on the media icon to watch the video and learn deeply about it.
Kotak Mahindra Bank Kotak 811 Credit Card Features, Benefits, Eligibility & Charges Full Details