Littloo Free Samples: In this sample post, I will introduce a new free sample item of the Littloo platform.
After requesting a free sample item of Littloo, you will get these benefits:
Free baby shop or cream.
The product value is only Rs 1.
Purchase any three product items.
And more benefits.
Forsooth:
I have already requested for free samples item from the Littloo platform.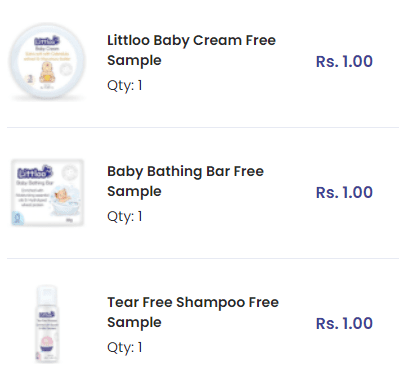 How many times did you wait for this free sample product? Have you check the other free sample post? If not.
Then check it, I have mentioned in this post!
I think you did not heard about the Littloo. It is an old private company launched in 2017 and is mainly known for selling baby products.
Littloo offers several types of deals, including the sale, buy 1 get 1, discount coupon. But today, it brought with another offer, where it provides free samples.
It has back with the same sample offers and under the offer period, customers can request for a free sample items.
Also check:
Are you excited to buy a product from Littloo? Then, jump down and get all the free steps to follow them.
Littloo Free Samples Terms:
1. Get Free Product for Baby
1) When users register on the Littloo platform and request product items, then they will get them free.
2) Also, the product value is Rs 1, and users do not have to pay more product amounts but shipping charges will be required.
3) Users have to fill the cart with a minimum of 3 items, then only they can proceed for checkout.
4) Free sample items contain tear-free shampoo, baby bathing bar, baby cream, massage oil, and rash cream.
5) For extra discount on other products, use this code LITTLOO10 for 10% discounts.
6) Littloo Free sample offer is applicable once per user and valid only on the Littloo.
How to Avail Littloo Free Samples:
1) Firstly, tap on the Littloo website from the given page or search it on your chrome browser.
2) After going to the webpage, you will see many options from the above page and click on the request a sample section.
3) Then, you will land on the next page, where you will see many items containing value of Rs 1.
4) Now, check all the items by reading the detail description and adding the items to the cart one-by-one.
5) After that, tap on the cart icon from the above page and review your basket, which has a minimum of 3 items.
6) Then, proceed to the checkout button and, next, add your contact information to deliver the product quickly.
7) Add your email address or phone number, country/region, first name, last name, address, city, state, and PIN code.
8) This free product does not require any coupon or voucher code, so click on payment button.
9) Next, you can confirm your payment with any payment gateway.
10) After requesting sample, your item will reach your doorstep within a few days.
Conclusion:
If you liked this post, then share it with your friends.
What product did you choose under this free sample offer from Littloo?
Tell me all names or one in the comment box, and also check out the free recharge offers.
Littloo Free Samples Offer FAQs:
What will I got from the Littloo?
You can get a free items from the Littloo platform at Rs 1.
How can I ask any queries to Littloo?
You can ask any type of queries or problems related the product, then you can contact with email or contact number available on the website.
At this Point Check Related Offers:
Finally Watch Related Video:
Watch Littloo's product from this video.
Littloo Free Sample Product | free sample products today