Mother Sparsh Free Sample: Today, I will tell you a new free sample post named Mother Sparsh.
Get all these exclusive perks for free from Mother Sparsh:
Free sample of baby diaper.
Free product on filling a survey.
Take a survey and get stuff.
And more perks.
In fact:
I have already made a request for a free sample product of the Mother Sparsh brand.
Have you ever checked the free sample posts? If not, then visit directly from this post and grab all.
Before that, jump down and learn about the free sample.
Every time, Mother Sparsh offers discounts on all categories such as Baby, kids, hair, skin, mother, and kits.
But today, it brought a fantastic offer where customers/users do not have to pay a single amount of money. Yes, Mother Sparsh is offering a free sample.
Mother Sparsh has a blog section where you can read fantastic articles like travel with newborns, apply hair oil, or more.
Also, you can get help to buy the right product from Mother Sparsh from this blog section.
Also check:
If you read about Mother Sparsh free sample? Then read the below offer steps and follow them carefully.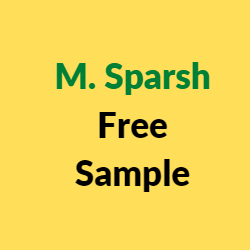 Mother Sparsh Free Sample Terms:
1. Complete Survey and Get Freebies
1) If users complete a survey of Mother Sparsh by opening the below link, then they will receive a free sample product.
2) Free samples item contains a baby diaper of Mother Sparsh brand, and users have to fill in all the correct details.
3) This free sample offer is not valid for a long time, it will expire within a few days.
4) Mother Sparsh has reserves all rights to change or modify the terms anytime without prior notice.
5) Once the details are sent to the Mother Sparsh, then users cannot change them later.
6) This free sample offer is applicable for once, and it will send you a free gift within a few days.
How to Avail Mother Sparsh Free Sample:
1) Firstly, tap on the offer link to visit the Mother Sparsh page.
2) Secondly, you will be redirected to the Google Docs page, and a survey will open.
3) Now, you have to sign in with old Google accounts (if you have them) or create a new Google account with your name, email ID, and password.
4) After logging in with your account, fill all the blank fields with unique details and give all answers to the questions.
5) When you give the survey answer, then enter your full name (for shopping purposes), phone number, address, city, and Pin code.
6) Now, recheck all the details from the above and scroll down the page to submit your response.
7) After that, it will check the detail of your and if the details and survey answer are correct.
8) Then, Mother Sparsh will deliver the free samples item to your doorstep within a few days.
Conclusion:
Fill out the free sample survey and request free sample items.
How many friends did you tell about the Mother Sparsh free samples?
Comment down, and do not forget to check or share the free recharge offers.
Mother Sparsh Free Sample FAQs:
How can I get free product from Mother Sparsh?
You will get a free item from Mother Sparsh after completing the tasks under the offer period or offer expires.
Is Mother Sparsh natural?
Yes, it made the product from the natural ingredients and gluten-free, so users can easily purchase and use it hassle-free.
At this Point Check Related Offers:
Finally Watch Related Video:
Know from this video about the free sample products.
#free #freesamples #mothersparsh #loot Unboxing Free sample of Mother Sparsh|| Free sample Hair Lep