Mother Sparsh Loot: In this post, I will introduce a new loot offer with the Mother Sparsh platform.
Get all the below benefits after going to the Mother Sparsh platform and shopping.
Free product on online shopping.
Made online shopping for free items.
10% loyalty cashback.
And more benefits.
Forsooth:
Earlier, I had got the free product when I purchased the products from the Mother Sparsh platform.
Do you want to get a free product of natural ingredients from a fantastic brand?
If you are looking for such type of loot deal? Then jump into this loot offer!
Mother Sparsh is a new India platform and 100% certified, and it is specially made for women. From this platform, users can shop products of baby, kids, hair, skin, and kits.
It provides huge offers, if customers' order amount is more than Rs 499, then they will get free shipping and free product items.
Mother Sparsh uses natural ingredients like Onion, coffee, lemon, green tea, ginger, and many more ingredients.
Today, it has brought a new loot offer, and users will get discounts, free products, and cashback on completing the order.
Also check:
Are you excited to get the huge benefits from this loot offer? Then get the following steps from below.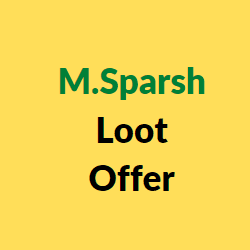 Mother Sparsh Loot Offer Terms:
1. Get Flat 50% Discount on Products
1) Users will get get flat 50% discount from the Mother Sparsh platform on sitewide baby care.
2) Also, customers can get up to 20% extra on purchasing from combos & kits categories.
3) Discount is applicable only on the Mother Sparsh product items.
4) There will be no minimum order value required for this loot offer.
How to Avail Mother Sparsh Loot:
1) Firstly, go to the Mother Sparsh website from the given link and open it to register an account.
2) Then, tap on the above profile icon to click on the register section to create your account.
3) Thirdly, add essential details like first name, last name, email address, and password.
4) Password must be strong, and no one steals your password, then log in to your account with the old details.
5) Now, start searching for your products or find products from the given categories and visit the product page.
6) Order must be more than the offer limits > now, add your product or kit into the cart.
7) The free product (Ubtan) will automatically apply to your cart when you add the product.
8) Now, go to the cart to review your order, also check your free product.
9) After reviewing the cart order > add your home address and no coupon code required, so leave the coupon section.
10) Then, click to proceed to the payment page and select any online payment gateway to complete your order.
11) Your discount will deduct from the original amount, and the cashback reward will credit to the account.
Old Mother Sparsh Loot Offer Terms:
1. Get Free Product of Rs 848 on Orders
1) Users will get access to buy a free products of Rs 848 from the Mother Sparsh platform after online shopping.
2) This loot offer is applicable once per users, and cannot avail themselves after expiration.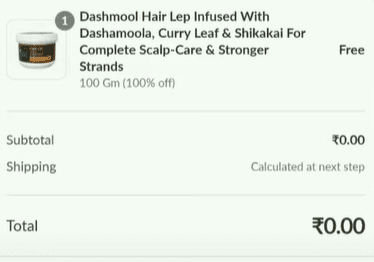 3) Free products are (Facewash + Body Scrub) this deal runs on every categories.
4) Minimum order value is Rs 600 required for this loot offer.
Conclusion:
I hope you enjoy this loot post very well, so tell your friends about it.
Which product did you choose under this loot offer period?
Write your recent product purchase name in the given below box and check out more free recharge offers.
Mother Sparsh Loot Offer FAQs:
Is Mother Sparsh natural?
Mother Sparsh is made with the natural ingredients and biodegradable fabric. Its products is 100% usable.
Who is the owner of Mother sparsh?
The owner of Mother Sparsh platform is Himanshu Gandhi whose vision is to provide natural products to the mother and baby.
At this Point Check Related Offers:
Finally Watch Related Video:
Click on this video and watch Mother Sparsh loot offer.
Mother sparsh loot | free sample product in india | free product kaise order kare | 100% DELIVERY