No Apology Free Products: In this free sample post, I describe a new platform to buy free products.
Use the No Apology service and get all the below benefits:
Free Sample product items.
Two items are absolutely
Products are at Rs 0.
And more benefits.
Indeed:
I ordered the free trials of this brand at Rs 0, and after some time, I got these items.
How many times did you order the free sample? Simply write my answer. I hope you have not checked all the free sample product links.
For this offer, jump down into this sample offer!
No Apology is the best platform for shopping with unique product items of these categories: Skin, Hair, Combos, and many more.
Apart from that, it brought a new deal, where every customer can get two free trials of this brand. Moreover, it provides discounts on other product items so that you can avail of them at low values.
No Apology uses no harmful chemicals while they use natural ingredients like Bhrami, Caffeine, Aloe Vera, Argan Oil, Coconut milk powder, and so on.
So you can easy to use this brand item.
Also check:
Are you excited for this brand product to buy at zero? Then follow the terms carefully.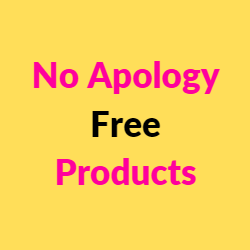 No Apology Free Products Terms:
1. Get 2 Free Samples Product Items
1) Apply this coupon code while checking out: TRYNA
2) The new users can take free products from the No Apology platform after requesting an item.
3) No Apology allows the customers to purchase two free items at Rs 0, and the product value is Rs 398.
4) Product is free, but users have to pay delivery charges of only Rs 99, and the offer will end shortly in a few times.
5) Free products include a gel face mask, Apple cider vinegar, milk conditioner, keratin hair mask, and more.
6) Make only online payments for the delivery charge and receive free products.
How to Avail No Apology Free Products Item:
1) Firstly, tap on the No Apology website from the given link and land on the dashboard.
2) When you go directly to the shopping page with the above link, then you will see an offer banner.
3) You must complete your profile first, so tap on the profile icon from the above header page to open the form.
4) Put your registration details such as email address/ID and password.
5) Your personal data will be used on the No Apology platform so that you can access all the products from its web page.
6) After successfully opening an account, visit the No Apology page to avail of this offer.
7) Next, tap on the banner or scroll down the page and select any of the products.
8) Then, add your items into the basket/cart and visit there to complete your order with the payments.
9) After that, apply this coupon code at checkout for once: TRYNA
10) After using the above code, you will be eligible for the free trials and submit to get the free product details.
11) Then, make your online transaction and receive your free items.
Conclusion:
Access all the product trials from the No Apology platform and get it free.
How much amount did you pay for your products?
Share some experience of this platform and also explore all free recharge offers links.
No Apology Free Products FAQs:
How can I get free products?
Many of the online websites are available to get the free product items, and you can also take it from No Apology.
Does No Apology provide free products?
Yes, No Apology provides free product items and users have to pay only delivery charges.
At this Point Check Related Offers:
Finally Watch Related Video:
Click to watch this video about this platform.