Nykaa Rupay Offer: In this offer post, I will tell you a new Rupay offer with the Nykaa platform.
After using the Nykaa with Rupay, you will receive all below benefits:
10% discount on shopping.
Discount of Rs 1000 on fashion products.
Instant discount on shopping.
And more benefits.
Forsooth:
I have used the Nykaa so many times and purchased a product of this brand, and also I saved money.
Do you want to get online rebates from Nykaa on online shopping? If yes.
Then look around this post and focus on the mentioned details!
Nykaa is known for selling fashion and beauty items. It has become the best shopping platform that provides daily and fashionable products.
Also, it sells the cosmetics and beauty items of Lakme, Loreal Paris, Nivea, Lotus, Crimea, The face shop, Olay, Estee Lauder, and so on.
Today, Nykaa and Rupay have brought a new discount offer, where you can save money during shopping.
Also check:
Are you excited to avail the benefit of the offers? Then first, read the offer terms and follow the steps carefully.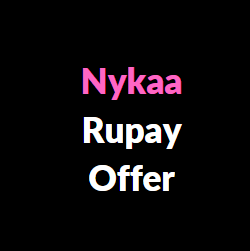 Nykaa Rupay Offer Terms:
1. Get a 10% Discount on Nykaa Fashion
1) Use this coupon code: NFRUPAY10
2) If any customers do online shopping from the Nykaa platform, then they can save a 10% discount for Nykaa fashion.
3) Users will get a maximum discount of Rs 1000 on fashionable products of Nykaa brands, and the minimum order value is Rs 4000.
4) Also, this Nykaa offer is applicable only once per user and applicable only on the m-site and app.
5) This Rupay Nykaa offer has the right to cancel orders, so users have to make a valid payment with the Rupay debit and credit card.
6) This offer does not run for a short period and is applicable for Nykaa users.
How to Avail Nykaa Rupay Offer:
1) Firstly, tap on the Nykaa fashion web page link from here or install its app from the Google play store.
2) After going to the Nykaa page, click on the account section, and a signup form will open automatically.
3) Then, continue with your existing Google accounts or enter your 10-digit phone number and OTP.
4) After account verification, you will redirect to the next page of Nykaa for online product purchase.
5) Next, tap on the given catalogs to explore the store items, and you can search for a particular item from the search car.
6) Different brands are also available here, you can choose any of the brand products from its other feature.
7) Then, click on the product to check in-depth and add them to the cart to complete your order.
8) Before going to the cart, bring your Rupay bank card (credit or debit), or you can take your relative's card.
9) After that, press the cart icon to recheck your items, and if you want to add on more items, then do it.
10) Now, add home address and use coupon code: NFRUPAY10
11) After using the above code, click to proceed with payment with the Rupay credit or debit card.
Conclusion:
Get your activated Rupay credit or debit card and use it on Nykaa shopping.
How much discount did you got on the first shopping during this campaign?
Tell me in the box, and do not forget to check free recharge offers.
Nykaa Rupay Offer FAQs:
What is Nykaa Rupay Offer?
Nykaa Rupay offer is all about the savings, meaning that customers will get a discount on shopping under this offer period.
Is Nykaa accepts Rupay Card?
Yes, Nykaa accepts Rupay card, so users can use it and make payment.
At this Point Check Related Offers:
Finally Watch Related Video:
Check out this video and watch all Rupay card benefits.
Rupay Card Benefits | Rupay VS Mastercard