Onecard Amazon Offer: In this post, I will tell you about a new Amazon offer with Onecard.
After activating and using Onecard on Amazon, you will get the following benefits:
10% instant savings on payments.
Reward point on grocery shopping.
Cashback on every spends.
And more benefits.
Do you have Onecard? Before answering my question, tell me whether you are a teenager or an older person.
If you are more than 18, then you can use this offer or do not try it. Now, jump into this offer to avail the benefit.
It's the 21st century, and people here prefer the digital world, and millions of merchants are providing digital services for their customers to be happy.
Amazon and Onecard are one of them, where Amazon is the world's largest e-commerce online selling company, and Onecard is one of the best credit card companies.
Today they both teamed up and made a strong connection, where if customers joined in its connection, they will save huge money.
Meaningfully, the customer will save on Amazon shopping on using Onecard after activating it.
Also check:
Are you satisfied with the paragraphs mentioned above? Then follow these given steps to avail the benefits.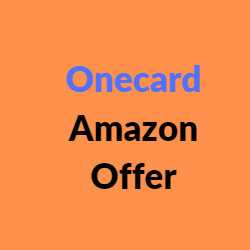 Onecard Amazon Offer Terms:
1. Get 10% Instant Save on Payments
1) The members will get 10% discount amount from the Amazon platform after fashion or mobile shopping.
2) Also, this offer is available for only Onecard members, and they can save maximum amount up to Rs 1000.
3) Minimum spending limit of this offer is Rs 5000 and applicable on grocery purchases.
4) Fashion user can save Rs 500 on minimum value Rs 2500, and Rs 1000 discount for smartphone users on minimum value Rs 1000.
6) Also, this Onecard Amazon offer will expire on 24th November 2022.
How to Avail Onecard Amazon Offer:
1) Firstly, go to the Amazon website from the given page link or tap on the link to download the Amazon app.
2) After downloading the Amazon app, click on to log in with existing account information or new details.
3) Go to the Amazon fresh store by searching on the Amazon homepage or find the items from the search bar.
4) Now, click on the particular item to check the product description or quality and then add them to the basket.
5) Add more fashion products into the cart, and your order amount is matched with the minimum offer value.
6) Now, close the Amazon app and visit the Android store to install the Onecard app to avail of the benefits.
7) When you download the app, then open it and signup with your mobile number, verification code, and set security PIN.
8) Next, add more details like PAN card number, DOB, referral code, country, address, and PIN code.
9) During Onecard signup, the entity must be valid and match your data.
10) Once your Onecard is activated, then go to the Amazon page and open its basket to check the product.
11) Next, confirm your order and add shipping details > then complete your payment to earn Valueback points.
Conclusion:
Join the Onecard and activate the card for online transactions.
Where had you used the Onecard for payment?
Share merchant name in the below box, and click free recharge offers a link to the page.
Onecard Amazon Offer FAQs:
Can I use Onecard on Amazon?
You can use Onecard on more than 1 million merchants and Amazon is one of them.
What is the use of Onecard?
Onecard is metallic credit card used for online payments.
At this Point Check Related Offers:
Finally Watch Related Video:
Watch videos related to this offer and get more information.
One Card Offer Back | ₹1500 Per Refer | One Card Amazon Voucher Offer | One Card Refer Offer