Paytm Debit Card Offers: I will share information on these debit card offers with the Paytm platform.
Upon using Paytm for the service, you will get real rewards:
Rs 150 cashback on the Paytm app.
Cashback on movie tickets.
Instantly savings on online payments.
And more rewards.
In fact:
I have the benefits from Paytm when I book movie tickets online with online payments.
How many times did you use Paytm for movie tickets? If you make more than two, then it is great, and I have a similar deal for you to save.
So are you excited about this fantastic deal?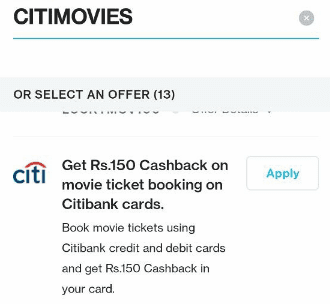 Paytm is a fantastic digital payment service that allows customers to earn cashback for free.
Today's deal is about only movie tickets, and a deal is active for every customer who wants back some money after payments.
Also check:
Have you ever checked the movie ticket offers on Paytm? So, this is your first time, and for some customers, it is another chance.
Paytm Debit Card Offers Terms:
1. Earn Rs 150 Cashback on Rs 500
1) Users have to apply this coupon code: CITIMOVIES
2) Customers can save from the Paytm platform after making an online payment with a debit card.
3) Maximum cashback will be allowed Rs 150 for every customer, but they must purchase a minimum of two movie tickets.
4) Minimum transaction value requires Rs 500 for making a transaction for the movie ticket offer.
5) Also, users must pay only with Citibank credit and debit card before the offers expires on Paytm. 
6) Offer lasts date is 31st October 2022, and the cashback will be issued within 90 days from the transaction date.
How to Avail Paytm Debit Card Offers:
1) Firstly, go to Paytm as per the offer terms or download the Paytm app from the Google play store.
2) If you have a Paytm app that asks you to update it, then update the latest Android version of your Paytm app.
3) Thirdly, tap on the sign-in button and open a registration form to log in to your account.
4) Enter the mobile number, email address, and strong password (if needed), or verify the account with a one-time password.
5) Go to the account section and complete your KYC verification with the Aadhar or PAN card.
6) After that, add your bank account and deposit or add money from your bank to the Paytm wallet.
7) Once you activate the account, then move to the homepage and search for the movie tickets > so, enter the city to get cinema details.
8) Then, choose any cinema hall, select the date & time, and choose your seat per the cinema frame.
9) Now, click on the button and proceed to add this coupon or promo code: CITIMOVIES
10) After using the code, proceed with the payments and select only the debit card payment option from there.
11) Complete your online payment and get back your cashback reward.
Conclusion:
Activate Paytm offer deal from the Paytm app and use it for cashback earnings.
How much Paytm cash did you earn from Paytm?
Tell me in the below section, & also click to check out the free recharge offers.
Paytm Debit Card Offers FAQs:
What is Paytm Debit Card offer?
Paytm debit card offers will give you cashback benefits on making a successful movie ticket payments.
Is Paytm accepts debit card payments?
Yes, the Paytm accepts debit card payment and users can use any bank card.
At this Point Check Related Offers:
Finally Watch Related Video:
Visit the video and stream about the Paytm Visa debit card.
Paytm Visa Debit Card Unboxing | Paytm Visa Debit Card Physical |Paytm Visa Debit card Apply Benefit