Paytm First Game -- In this offer post, I am going to tell you about Paytm first game offers,
After reading this offer post you will get below-given benefits:
Paytm free loyalty cash.

Free

Paytm cash on playing games.
Rs 50 Paytm loyalty cash on signup.
And a lot more.
So, now let me tell you about Paytm first games,
And how to earn money by playing games on Paytm first game app.
Are you ready to know more?
Continue reading below,
A few months ago, Paytm launched its Paytm First game app on the play store,
This app is completely different from other Paytm apps,
You might have already downloaded Paytm Payments app, Paytm money app and other Paytm apps,
All the apps are made to send or receive money,
But in Paytm first game,
You can't do that instead of sending and receiving the money you can only earn money through playing games,
Also, let me tell you that when you refer this app to your friends then you will earn Loyalty cash not Paytm wallet cash.
But what is loyalty cash?
To know more check the steps I have mentioned below about Loyalty cash.
Moreover, make sure to read the Paytm First game terms or refer and earn rules.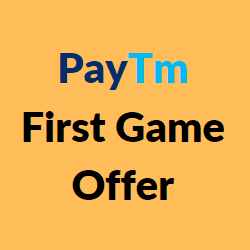 Paytm First Game Terms --
Get Rs 5

0 Paytm Cash + Refer & Earn --
1) Share the referral link with your friends, and invite them to play in Paytm First Games.
2) When your friends successfully download Paytm First Games Pro App and register, you can win unlimited cash.
3) The more friends you refer, the more rewards you earn.
4) Only new users who download the Paytm First Games Pro App and successfully register can earn rewards.
5) The user who referred to him/her will also earn rewards.
6) The cash rewards can be checked in your Paytm First Games Wallet.
7) The Points rewards can be checked in your Points balance.
8) There is a maximum limit to successful referring.
9) Once you reach that limit, you cannot refer further.
10) Referral rewards may change at any point in time.
11) Paytm First Games reserves the right to not send referral rewards, recycle your rewards and/or block the account.
How to Avail Paytm First Game Offer -- 
1) First of all download Paytm First Game app from Offer Page
2) Now download the app on your android smartphone.
3) After downloading it open the app and login in Paytm First Game app.
4) You can use your Paytm number and password to login to the Paytm First app.
5) Now you will get Rs 50 Paytm Loyalty cash instantly after login.
6) This Loyalty cash is not transferable, so you can't transfer it into Paytm wallet cash.
7) But, you can transfer it in your Paytm main balance by using it for playing games on Paytm First game app.
8) Now click on the bottom tab and then click on all games options,
9) From here, you can play multiple games, by using your Paytm Loyalty cash.
10) When you win in these games, then you will earn real Paytm cash for free.
How to Refer and Earn --
1) Click "Refer & Earn"
2) If Share with your Friend
3) Friend downloads the app and registers
4) Both you and your reference earn rewards.
5) When your friend downloads this app using your link then he will get Rs 50 Loyalty cash and you will get Rs 10 loyalty cash in your wallet.
6) You can again use this loyalty cash to win more.
Check Related Offers --
Watch video from a Channel --
Paytm First Games | Paytm First game paise ₹10 Kamay | HOW TO EARN FROM PAYTM GAMES | | EARN 1000rs