Paytm Zomato Offer: Are you feeling hungry?
I hope you already know about Zomato,
Aforesaid Zomato and Paytm are teamed up and offering some discount and cashback when you make the transaction on Zomato App with the E-payment website Paytm.
I know many questions arise in your mind that How to get cashback?
Where you will get cashback? How much cashback you will get in the Paytm wallet? And some more questions
Did you know Paytm made few changes with their app?
Now you will get cashback as Paytm Loyalty Cash meaning this cashback can't be transferred into your bank account or in any other wallet.
You can only use this cashback when you recharge, make bill payments, etc.
So in this Paytm Zomato Offer, you will get a discount and discount when you make a transaction through the Paytm wallet and completing the transaction.
Moreover, this offer is valid once per user meaning after availing it one time you can't use it another time.
Also check:
To know more read below given terms and conditions,
And follow the below steps to avail Paytm Zomato Offer.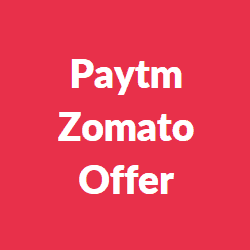 Paytm Zomato Offer Terms:
Get 50% off Up to Rs 300 on Transaction:
1) Get 50% off up to Rs 300 on ordering food.
2) Apply promo code: NOCOOKING300 to avail of this offer.
3) The offer is valid till 5th July 2020.
4) Offer is applicable for selected users.
5) Offer is valid on Payment made via Paytm wallet.
How to Avail Paytm Zomato Offer:
1) Firstly Goto Zomato from Offer page
2) Now Download Zomato App from Google play store.
3) Install and open the Zomato App to order some delicious food for yourself.
4) At the time of payment choose the Paytm wallet.
5) Now download the Paytm app from the Android Market/Google play store.
6) Log in with your credentials on the Paytm app or continue to register a new account and then purchase this Paytm deal for free.
7) Go back to Zomato app and Apply Promo code: NOCOOKING300
8) Once your coupon applied head to pay the amount using Paytm wallet.
9) Complete your Payment through Paytm.
10) You have successfully availed this cashback/discount offer from Paytm.
Note: If you don't have enough credits in the Paytm wallet then add some bucks/money in the Paytm wallet.
Old Paytm Zomato Offer Terms:
Get Up to Rs 199 on Rs 99 Order:
1) This offer is applicable only when you Pay on Zomato for 99 or more.
2) Offer can be availed 3 times during the campaign validity.
3) Offer is applicable for selected users.
4) Offer is valid only on making payment on Zomato using Paytm wallet.
5) The customer has to use Promo code PAYTMAPRIL on Zomato.
Let us know in the comments section below if you have any queries.

Also, don't forget to check some free recharge tricks
Paytm Zomato Offer FAQ:
How to avail Zomato Paytm offer?
To avail this offer, you need to make a food order on Zomato with Paytm wallet.
What is Zomato?
Zomato is an online food delivering webiste and app, using Zomato you can order food online.
What is Paytm?
Paytm is an app where you can make a transaction on various stores and also you can recharge and pay your bills online.
How to Order food on Zomato?
You need to download the Zomato app for ordering food on Zoamto app. You will find the Zomato app download link in this post.
Check Related Offers:
Watch Video from a Channel:
How To Get ₹75 Cashback On Paytm From Zomato App | How To Use Zomato 50% Offer | Loot Offer 2019