Payzapp Nobroker Offer: In this post, I will introduce a new Nobroker offer with Payzapp.
Get Payzapp from the Google play store and earn the below exclusive rewards:
Cashback Rs 100 in a month.
Pay online and save money.
Cashback on online rent payment.
And more rewards.
Indeed:
I have used this Payzapp platform many times to earn money online.
Do you want to get cashback from this new Nobroker platform?
Then take a step to jump into this Payzapp Nobroker offer!
Nobroker is an online renting platform, and users can use it to take home on rent or buy a home. Users can also buy online property from this platform.
Nowadays, Nobroker is with Payzapp and offering a cashback offer, where customers will earn a huge cashback.
As we know that, Payzapp is an e-payment platform, and it works everywhere, but KYC users can use it. Now, check out the latest flats and homes on this platform.
Also check:
Have you ever listened of or used the Nobroker platform for online renting? If not.
Then read the offer terms and follow the steps.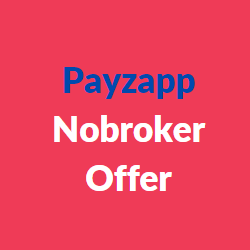 Payzapp Nobroker Offer Terms:
1. Save Money of Rs 100 Per Month
1) The members will get cashback up to Rs 100 per month, if they use the Nobroker platform for renting a house with Rs 25,000.
2) Users can earn a maximum cashback of Rs 100 under the offer period.
3) Also, the users have to use this offer for once with single device.
4) It has validity, users can use this Payzapp offer till 31st September 2022.
5) When users pay with Payzapp wallet or HDFC linked cards, Payzapp wallet only their earned cashback will deposit to their account within 90 days.
How to Avail Payzapp Nobroker Offer:
1) Firstly, download the Payzapp app from the Android store.
2) After that, type your mobile number and one-time verification code to activate your Payzapp account.
3) Thirdly, go to the Payzapp wallet and add some money from your bank account.
4) Now, close the app and go back to the Google play store to download the Nobroker app > then click on the signup option.
5) Small window will appear in front of you > now, put your mobile number, name, and email address on that page and press the continue button.
6) Then, you will go to the Nobroker page > next, choose the rent option, and set your location by entering the details.
7) Next, enter a city name, apartment type, property status, and tap on the search option.
8) Now, you will see many options in front of you > click on any of them and get owner details.
9) After that, click on the button and choose Payzapp as a payment method to complete your transaction.
10) Your cashback reward will  credit in the Payzapp wallet within a few hrs.
Conclusion:
Want to get cashback online? Then participate in this Payzapp offer.
How much cashback did you collect in your Payzapp wallet?
Share your cashback earnings in the suggestion box and click on free recharge offers.
Payzapp Nobroker Offer FAQs:
Can we make transaction on Nobroker with Payzapp?
Yes, you can complete transaction with Payzapp, if you have an account.
What is Nobroker rent payment?
Nobroker allows you to pay for your rent with available online methods.
Is Nobroker Rent Safe?
Yes, Nobroker rent is safe and secure to use.
At this Point Check Related Offers:
Finally Watch Related Video:
Tap on this video and know about the Payzapp cashback offer.
Payzapp Rs350 Cashback offer 😱May Cashback offer||Payzapp Latest offer||Nobroker.in Payzapp offer👍