Port Idea to Airtel: In this article, I am going to cover some Idea to Airtel porting methods,
After reading this article, you will also get the answer to the below questions:
How to port Idea to Airtel?
Methods to Port from Idea to Airtel?
How to port mobile numbers from Idea?
And

many

more.
Do you have more questions regarding this topic?
Let's dive right into this amazing topic,
Should You Port out from Idea to Airtel?
I hope you already know that last year Idea is merged with Vodafone India and both the companies become a single entity,
After the merger, the new name of the company is Vodafone Idea limited.
However, the company also changed its domain name with Vodafoneidea.com.
After the merger, the company became the largest telecom operator in the country.
But, after a few weeks of the merger, many Vodafone and Idea customers ported out from their network due to connectivity problems and due to a few other reasons.
The main reason is Reliance Jio, which is continuously providing great and amazing features to their new and old customers.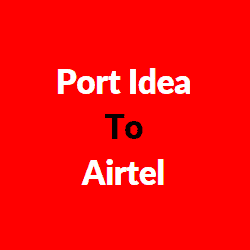 At the time of the merger, Reliance Jio was offering some freebies such as Unlimited calling to any network in India and Unlimited 4G internet data and so on.
Due to freebies, Jio is luring more Vodafone, Idea, and Airtel existing customers.
Moreover, If you are the one who is porting out from Idea to Airtel due to the above-given reasons then you can follow the below-given methods to Port from Idea to Airtel.
In Port Idea to Jio's article, I told you about the pending dues. Do you know about it?
You can check the above article for more information about this topic.
Also check:
However, Let me tell you a brief summary of the pending Dues. These dues are the pending dues of your existing operator such as Advance Talktime, Advance Internet Talktime, and more.
So, if you have any existing pending dues then clear them before applying for port out.
How to Port Idea to Airtel?
1) To port out from Idea to Jio you need your Ideasim card Unique Porting Code which is also known as UPC code.
2) For porting code, you have to send an SMS from your mobile number.
3) Firstl of all open your smartphone and then click on the SMS app icon and then click on compose an SMS.
4) Now enter PORT <Your mobile number> and then send this SMS to 1900.
5) For example, You have to type PORT <98586958745> and then sned like this format on the 1900 number.
6) Within 24 hours you will get your Unique Porting Code (UPC code) from Idea through SMS.
7) Now Goto your nearest Airtel retailer or any Airtel store and ask the shopkeeper/agent about porting.
More Steps:
8) Then share your porting code along with your Documents with the shopkeeper/agent.
9) Within 7 days, you will get your Airtel SM card with the same mobile number.
I hope you like this

Port Idea to Airtel

post,

If you like it then don't forget to share this offer with your friends and with your family members who need this offer the most,

Do check some free recharge offers, free recharge apps, and ask your friends to check the same if they are looking for some extra discount on their recharge, bill payment, etc.

Also, check Paytm cash apps for some extra money, and Airtel free data code, Jio free data code, Vodafone free data code offer for the extra Internet.

Now I want to hear from you. Do you have any query, regarding this offer?

Check Related Offers:
Watch Related Video:
How to Port-in to Idea with National MNP