Port Idea To Jio: In this article, I am going to tell you about How you can port your Idea mobile number to Jio mobile number.
After reading this complete article you will know:
How to Port Idea to Jio.
Ways to Port from Idea to Jio.
Port message for Idea.
And

much

more.
Are you excited to know more about this topic?
Let's dive straight into it!
Do you know that one year ago from now Vodafone India merged with Idea cellular?
And both the companies was renamed as Vodafone Idea Limited.
According to the recent rumors, the company is going to shut down and will be again merged with Airtel.
However, there is no official announcement by the company itself,
Moreover, Vodafone Idea limited mentioned on their official site that the company is not going to merge with any other telecom operator such as Airtel, Jio, and BSNL.
If you are still a Vodafone Idea customer then the company will provide you the best experience every day.
Now, should you port out from Idea to Jio?
I recommend you to remain with Vodafone Idea Limited.
However, if you are facing some technical issues with connectivity then you should opt-out from Idea.
Also check:
Before, porting out from Idea network to Jio network you should clear all the pending dues of Idea,
For example: If you have taken any loan or advance Talktime or Advance internet balance then you should pay the amount back to the operator for a successful port out.
Another example: If you are an Idea postpaid users then you should pay your pending bill.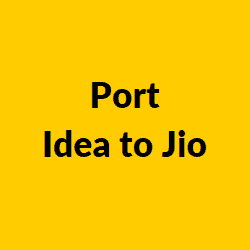 Best ways to Port Idea To Jio:
Now let me tell you the best way to port out from idea to Jio,
There are a few ways that you can use to port out your Idea mobile number to Jio, but I didn't test some of those methods/ways personally.
So I will tell you the method which worked for me and will also work for you!
Method One:
1) First of all, enter your Idea sim card in your smartphone and then switch on your smartphone.
2) Then recharge your Idea mobile number with Rs 10 or with Rs 49 for activating the outgoing services.
3) After that, open your smartphone SMS app and compose an SMS like this: SMS PORT <Your-Idea-10-digit-mobile-number>.
4) Then click on the button on your smartphone and then enter this number: 1900.
For example, I will send an SMS like "PORT 9999999999" and then I will send it to 1900.
5) After entering the number, send the SMS successfully from our mobile number.
6) Within 24 hours to 48 hours, you will get an SMS back with your UPC also known as Unique Porting Code.
7) Then, take your proof of Address (POA) / Proof of Identity (POI) / Aadhar card / Pan card (optional) from ou home and take them to your nearest Jio store or any Reliance Digital or Jio retailer store.
8) Ask the store agent about the porting connection and show them your Unique porting code with all your documents.
More Steps:
9) Then the agent will take all the documents from you along with your Unique porting code.
10) Then the agent will ask you to come back to their store after 7 days to collect the new Jio sim card with the same mobile number.
11) In between these 7 days, you can use your Idea sim card.
12) Once you collect your Jio sim card from the Jio store then the Idea sim card will get disabled.
13) After collecting the Jio sim card you have to verify your mobile number by calling on the Jio customer care number.
14) After completing all the 13 steps, your Idea sim card or number will be successfully ported to Jio.
Check Related Articles:
Watch Related Video:
Change your Sim, not your Number - INSTANT PORT TO JIO from HOME