Railrestro Freecharge Offer: In this offer post, I will discuss a new Freecharge offer with Railrestro.
Get the Freecharge app from the online platforms and get the below rewards:
Forsooth:
Earlier, I earned cashback and discount on online food orders when I used this platform.
Have you ever heard about the Railrestro platform or Freecharge? Comment down.
Now, let's find more about the Railrestro!
Railrestro is the first platform that is known for the food order service. On this platform, you can check trains by PNR status, train running, train schedules, and more.
Additionally, it also provides food service, and after using this platform, customers can order their delicious food items. Railrestro always amazing offers with the merchants.
Now, Railrestro launched a new offer with Freecharge, where you can save money as discount and cashback.
Also check:
Are you sure you are eligible for this Railrestro offer? Then go straight into this offer and follow the steps!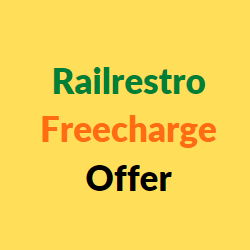 Railrestro Freecharge Offer Terms:
1. Flat 15% Discount and Rs 80 Cashback
1) This New year, no unique offer code is required.
2) When users go to the Railrestro platform and order food, they will get an instant 15% discount.
3) Also, the users will get their entitled cashback to the Freecharge wallet within a few days.
4) This Railrestro Freecharge offer is valid until the offer expires in January 2022.
5) Users can participate and use this offer once per customer, valid only on the Railrestro platform.
6) Payments should be made by the Freecharge to earn cashback and discount under this offer.
How to Avail Railrestro Freecharge Offer:
1) Firstly, visit the Railrestro website or check out its web page from the given link or install its Railrestro app from the Android store.
2) After downloading the Railrestro app, create your login account and put your mobile number.
3) Now, enter the receiving code in the signup form and click to submit the details
4) Also, add your full name or go to the Railrestro account section and complete your profile details.
5) When you go to the Railrestro homepage > then, you will see various services like PNR status, train running, or more.
6) Then, add your order through the PNR number or train number and click on the continue option to land to the next page.
7) Now, close the Railrestro page and visit the Google play store to install the Freecharge app.
8) Use your old details to log into the Freecharge app and fill your wallet with the money.
9) Once you recharge your Freecharge account, then you can use it for various payments anywhere.
10) Now go to the Railrestro page and choose the Freecharge payment method to complete your transaction.
11) Your discount money will deduct from the Freecharge and cashback will go to the app wallet within a few days.
Conclusion:
I hope you will like the offer post, then share it with your friends.
Did you get rewards from this Railrestro Freecharge offer posts?
Comment your savings in the below comment box and check out some free recharge offers.
Railrestro Freecharge Offer FAQs:
Is Railrestro accepts payments from Freecharge?
Yes, Railrestro accepts the Freecharge online payments, where users can save money on making payments.
Can I book meal in train?
You can book a meal in train using this online Railrestro platform.
At this Point Check Related Offers:
Finally Watch Related Video:
Watch and know how to order the best quality food on the train.
How To Order Best Quality Food in Train (Rail Restro)