Reliance Digital Kotak Offer: In a new post, I will tell you about a new Kotak offer with the Reliance Digital platform.
Shop from Reliance Digital with a Kotak card and save money:
Up to INR 1500 on payments.
Maximum Rs 5000 on more
Save on online transactions.
And a lot more.
Indeed:
I have saved money on the Reliance Digital platform many times through cashback.
Do you regular use the Reliance store? Its stores are available in various locations so you can use them for shopping.
Let's started to learn about this offer!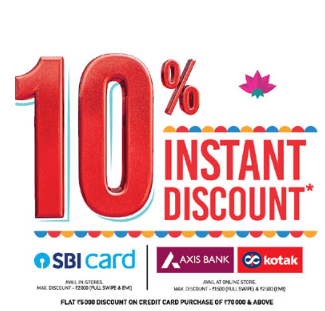 Reliance Digital is one of the largest grocery stores, and not only grocery shopping, but you can shop for clothes from its available store.
It has opened many physical stores in many cities, and users can visit to purchase a particular item at a discount.
Now, Reliance has brought a discount deal with a new partner bank named Kotak.
Also check:
Are you excited about this deal? Hope you will take benefit of this offer.
Reliance Digital Kotak Offer Terms:
1. Get Flat Rs 3000 Off on Transaction
1) The customer can get the maximum discount from the Reliance Digital online shopping platform.
2) If credit card users purchase from Rs 10,000 to Rs 49,999, then they will save up to Rs 1500 only once.
3) When users pay more than Rs 50,000 for the product, they can save a maximum of Rs 5000, which is valid for CC EMI transactions.
4) Offer is applicable once per customer and not clubbed with any other cashback or discount offer.
5) Pay only with the Kotak Mahindra bank card before 27th October 2022.
6) Also, Reliance Digital Kotak Offer is unavailable for the Paytm SBI card and SBI cashback credit card.
How to Avail Reliance Digital Kotak Offer:
1) Firstly, tap on the Reliance Digital online shopping center from the given link, and you will land there.
2) After that, tap on the above login section from the Reliance Digital homepage and click on the register button,
3) You need to add personal details for registration, such as first name, last name, email id, strong password, phone number, and follow terms.
4) Then, click on the tab to get OTP > now, check your mobile SMS and copy your received code for verification.
5) Put the code on the registration form and sign in to the Reliance Digital app for shopping.
6) When you visit the shopping page after registration, you will get access to Reliance Digital for shopping.
7) After that, open every catalog or a particular > then click on the items from your favorite categories.
8) Add your selected item to the basket, and you can choose multiple items if you want.
9) Then, go to the cart and check your cart that fills with the items, and now you have to activate the Kotak Mahindra bank card.
10) Also, you can get your product on EMI payments, so the choice is yours.
11) Go back to the payment page and checkout your order with the Kotak credit or debit card payment.
Conclusion:
Check out a new Reliance Digital kotak offer deal and take advantage.
What will you shop from the Reliance Digital shopping platform?
Comment the product name in the below section and check out the free recharge offers.
Reliance Digital Kotak Offer FAQs:
Is Reliance Digital accepts Kotak card?
The Kotak bank customers can make a payment on Reliance stores for the products.
Does Reliance give you cashback?
The several cashback offer is applicable on the Reliance and you can save on it.
At this Point Check Related Offers:
Finally Watch Related Video:
Stream the video to learn unique about Reliance Digital.
Reliance Digital | #DigitalDiscountDays