Reliance Digital SBI Offer: In this post, I will discuss a new SBI Offer with the Reliance Digital app.
Make an online shop and receive the below profits:
Rs 500 online discount.
Instant saving on purchases/
Buy products at 10% value.
And more profits.
To be sure:
I purchased the products from the Reliance Digital platform after doing online shopping.
Do you want to purchase an item from online Reliance stores? If you want to save money online.
Then let's start using this Reliance Digital SBI offer deal!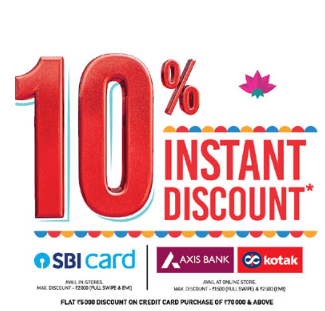 Reliance Digital is a shopping center located in various locations, and you can save money on product purchases.
However, it offers various discounts where you can save money online on several purchases. It has many bank partners and merchants that provide you with real rewards.
Nowadays, it is offering a new discount deal with a partner bank named SBI, and only credit card customers can save.
Also check:
Have you ever used its online or offline shop? Then read the terms carefully and follow the steps carefully.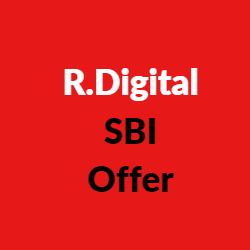 Reliance Digital SBI Offer Terms:
1. Get Maximum Discount on Purchase
1) The customers will get a 10% discount amount from the Reliance Digital shopping platform on purchases.
2) When customers visit the checkout page and pay with a credit card non-EMI transaction or CC EMI transaction, they can save Rs 500.
3) Make an online payment only with the SBI credit card for your product, and applicable once per customer.
4) No coupon code will be required to avail of the advantages and make a minimum payment of Rs 5000.
5) Only Reliance Digital customers can save the maximum amount on online purchases.
6) Also, this offer will end on 31st October 2022 and is not valid on a Paytm SBI or SBI cashback credit card.
How to Avail Reliance Digital SBI Offer:
1) Firstly, click on the Reliance Digital online shopping platform from the given link or check its free Android app.
2) Afterward, tap on the login function and choose the register section first, then dial your old mobile number or social accounts like Facebook or Google.
3) After logging in, click on the profile section to complete your profile with valid details.
4) So, add your first name, last name, email Id, strong password, and mobile number and go back to the homepage.
5) On the homepage, search for your favorite products by brand or name in the search bar.
6) If you want the best material-made products, look for the fantastic brand product from the given product catalogs.
7) Click on the selected product to visit the main page and read about the product.
8) When you ensure it to buy, then add them into the basket, and also, you have to activate your Axis bank credit card.
9) Now, check your added items into the cart and add your home address, such as pin code, city, country, address, and more.
10) After that, recheck your shipping details from there and proceed to the next payment page.
10) At last, make your payment of Rs 5000 with the SBI card EMI transaction or non-EMI transaction to save.
Conclusion:
Check out this fantastic SBI offer deal on the Reliance Digital store.
Did you save Rs 500 on Reliance Digital shopping?
Share your savings on your experience and click on the free recharge offers.
Reliance Digital SBI Offer FAQs:
Is Reliance Digital accepts SBI card?
Yes, the Reliance Digital accepts payment from the SBI card customers and they can save.
Does Reliance Digital provides real rewards?
Yes, the Reliance Digital gives you real rewards as a discount form.
At this Point Check Related Offers:
Finally Watch Related Video:
Start watching a given video and listen to this offer.
Reliance Smart Bazaar Diwali Special Offers/Buy 1 Get1/Under 49 & 99rs / Latest Festival Offers