Samsung SBI Offer: Today, I will discuss a new SBI offer with the Samsung platform.
Save on offline Samsung stores after paying for a product value.
Instant cashback on shopping.
Up to Rs 10,000 cashback.
Save on offline stores.
And more benefits.
To be sure:
I have purchased Samsung products from online stores many times, but I bought a few products from offline stores.
Do you prefer offline or online shopping? If you are an online lover. Listen, this offer is for offline users, and if you are interested, then join it.
Dive straight into this Samsung offers!
Samsung is the largest company that provides its items across global countries, including the USA, France, Australia, and more.
This company provides several types of electronic items, such as washing machines, refrigerators, smartphones, tablets, monitors, and much more.
Now, Samsung has brought an offer with the SBI bank, and customers can earn cashback on smartphone product shopping.
This offer applies to all smartphone items.
Also check:
Check the mentioned Samsung offer steps below before proceeding with the offer. Also, learn about the other offers.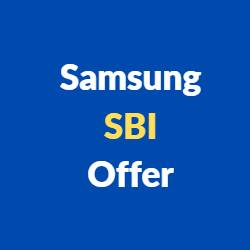 Samsung SBI Offer Terms:
1. Get Up to Rs 10,000 Cashback
1) The customers can issue a huge cashback amount for themselves from the Samsung company after shopping.
2) Cashback value is up to Rs 10,000 on selected Samsung smartphone and tab product items.
3) Also, this Samsung offer is applicable only to store customers who purchase an item from physical stores.
4) Payment mode is offline, and users need to make an EMI transaction with the Pine Labs gateway mode.
5) Offer is applicable for those customers who complete payment on the Samsung store with the SBI card.
6) Also, the cashback will be posted to the user's account before 6th January 2023, and the offer the last date is 30th September 2022.
How to Avail Samsung SBI Offer:
1) First, customers/users need to activate the SBI card by visiting the bank or online app.
2) However if you do not have an account on your SBI bank, download the YONO SBI app from the Google play store.
3) The app will download fastly on your smartphone, if you have a good network, so open it.
4) Ready all your documents, such as your PAN card, Aadhar card, and other documents, then go to the page.
5) So, dial your unique number and email address, and click to get a verification code > add more government-issued documents.
6) Your account will be opened successfully on the YONO SBI app, but you must collect the SBI card from the bank.
7) Card is ready, and you can use it anywhere for product purchases, so search local Samsung stores nearby.
8) When you find the Samsung stores, then visit there and find the best smartphone or tablet device.
9) Go to the counter section and complete all the formality of your product > then pay for your order.
10) Lastly, complete your payment with the issuing bank's SBI card and get your item.
Conclusion:
Join this Samsung offer deal by activating it on SBI.
Which product item do you want to purchase from Samsung?
Tell me below in the box and check some free recharge offers.
Samsung SBI Offer FAQs:
Is Samsung accepting payment of SBI card?
Yes, the Samsung customers can make online or offline payments with the SBI bank-issued card hassle-free.
Does Samsung provides cashback offer?
Samsung provides both cashback and discount offer for the online or offline users and users have to do shopping as per choice.
At this Point Check Related Offers:
Finally Watch Related Video:
Click to know about the new Samsung Pay service.
SAMSUNG PAY - Swift and Secure - Link your SBI Card with App