Saraswat Bank Rupay Offer: In this post, I will cover a new bank offer named Saraswat Bank.
After using the Saraswat Bank card, you will get the following benefits:
20% cashback on shopping.
Cashback on utility payments.
Pay and earn real cashback.
And more benefits.
To be sure:
A few days back, I got my Saraswat bank Rupay credit card, and I have used it.
The feeling of using this bank card is similar to other bank cards. Do you want to use a credit card? If yes.
Then you need to activate it first!
Saraswat Bank is a cooperative bank that is similar to all other banks like SBI, CBI, Punjab national bank, and many more.
Currently, it operates its service in some the states like Delhi, Goa, Gujarat, Karnataka, Madhya Pradesh, and Maharashtra.
It opened a bank in major cities in these states, including Indore, Lajpat Nagar, and Connaught Place. But open to every user who is a resident of India.
Here, it has come for you to bring a cashback Rupay offer, where you will receive 20% back on payments with a Saraswat Bank card.
Also check:
Have you heard about it before? Because it is opened in somewhere.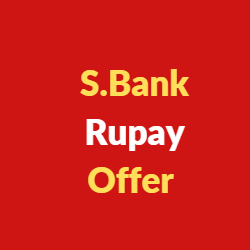 Saraswat Bank Rupay Offer Terms:
1. Get 20% Cashback on Credit Card
1) Users have to complete payments on utility bills like electricity, piped gas bills, DTH recharge, and telephone bills.
2) Also, this Rupay offer is applicable only on the Saraswat Bank card app for online bills.
3) The users have to activate the Rupay credit card, and they will receive 20% cashback on valid payments.
4) Offer will run for an extended period and end on 31st March 2023.
5) Cashback Up to Rs 250 will be issued for the user's account within a few days from the payment date.
6) Customers can use this offer once a month during the offer campaign.
How to Avail Saraswat Bank Rupay Offer:
1) You have a choice to visit the Saraswat website or download its app on a mobile device.
2) Alternate, you can also visit the Saraswat bank from your nearby location.
3) After that, open your savings account on any given service> apply for a new account on a website.
4) Then, enter your first name, address, email address, state, city, branch, Pin code, mobile number, captcha, and submit.
5) After submitting, it asks you to add more personal details and then complete your verification.
6) Add your photo, e-signature, PAN card, and Aadhar card, and complete your verification with the code.
7) When you open the account, then go to the app and activate the E-commerce section available on the homepage.
8) Wait! Before that, you have to activate the Saraswat bank credit card once you start it.
9) Then, jump to the bills page and choose the given service as discussed above.
10) Now, fill in any amounts and complete your first month's transaction with the credit card.
11) You will get your entitled cashback on your account.
Conclusion:
I hope you will tell about this post with your friends and bring your friends.
How was your experience with using the Saraswat Bank card on bills?
Tell me about your experience in the comment section and explore the free recharge offers.
Saraswat Bank Rupay Offer FAQs:
Is Saraswat Bank private or government?
It is an urban cooperative bank which was found by JK Parulkar and NB Thakur.
What is the minimum balance in Saraswat Bank?
Initial deposit amount is Rs 5000 and the customers have to maintain this balance until the saving account is opened in this bank.
At this Point Check Related Offers:
Finally Watch Related Video:
Get more information about the Saraswat bank credit card.
Saraswat Bank Credit Card Full Details