Slaypay Rupay Offer: This fantastic Rupay offer gives you a huge benefit on the Slaypay app.
After making a payment with the card, you will get more:
Rs 100 cashback on payments.
10% cashback will be credited.
Winners will get a 100% reward.
And much more.
Indeed:
I have this Slaypay card and used it in several places to earn cashback or coupon rewards.
Do you want to get this offer this night? So open your eyes and focus on this running deal.
Now, you can start from here and know better about it!
Slaypay is one of India's best and most excellent payment apps, which allows you to maintain your credit score by making a transaction.
This Slaypay gives you an opportunity of issuing a physical card or virtual card, and this issued card will be used for online payment services.
You can opt for the card for recharge, shopping, utility bill, money transfer, and many online services.
Also check:
Are you mad about this deal? If you are crazy about this offer, then no one can catch you.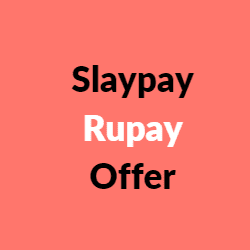 Slaypay Rupay Offer Terms:
1. Get 10% Cashback of Rs 100
1) There will be no coupon code is required or worked in this offer deal.
2) When users activate the card on the Slaypay app and use it during Halloweens day, they can get cashback.
3) Users will receive 10% cashback of Rs 100 on making purchases with the Rupay card, valid only for all users.
4) If users participate in this offer deal and complete a transaction using the service, they can earn 100% cashback up to Rs 1000.
5) 100% cashback amount will go to only five customers who join the Slaypay offer and complete the entire transaction.
6) Also, this Slaypay Rupay offer is used for once and will end on 31st October 2022.
How to Avail Slaypay Rupay Offer:
1) First, the user must meet this Slaypay website by clicking on the given link or moving to the Android app to check the app.
2) Now, search for the Slaypay app to download the app on your mobile device.
3) Thirdly, click on the sign-in section and choose register to enter the valid credentials to log in.
4) After that, enter your name, email address, 10-digit phone number, and invite code, and tap on the register now button.
5) You can also use the code for extra benefits; after signing in, you will move to the homepage.
6) On the dashboard, you have to activate your card by making a payment, and this payment will be made by any online method.
7) The card will be sent to your home address mentioned in the Slaypay app, or you can get the virtual form of your card.
8) Now, back to the Slaypay app and check out the Halloween offer sale on the given page and participate to join this contest.
9) Cashback will go to your account when you complete this contest and make a transaction on any service.
10) If you are the lucky winner in this contest, then you can earn 100% cashback value.
Conclusion:
Join the Slaypay Rupay offer and avail of it for once to get the benefits.
How many times will you use this Slaypay card?
Comment me and feel free to explore offers from this free recharge offers link.
Slaypay Rupay Offer FAQs:
Is Slaypay Rupay card exists?
Yes, the Slaypay Rupay card exists, and you can activate to use it on several places.
How can I make a transaction with the Slaypay cards?
You can make a transaction with Slaypay as normal like other payment sections.
At this Point Check Related Offers:
Finally Watch Related Video:
Play this video and watch to learn about the additional benefits of Slaypay.
SlayPay Credit Booster Card : Lifetime Free , 9% Default Returns, 1500+ Offers