Slice PhonePe Offer: In this offer post, I will discuss a new PhonePe offer with the Slice platform.
Use your PhonePe app with Slice card and get all the below rewards:
Rs 100 instant cashback.
Cashback on using service.
Rewards on online shopping.
And more rewards.
To be sure:
I have used this online PhonePe platform many times, and I earned cashback many times.
Do you need urgent cashback on online services? If yes
Then jump directly into this Slice PhonePe offer!
PhonePe teamed up with Slice and brought this fantastic cashback offer for its customers, where it allows the users to make payments and earn rewards in the form of cashback.
In addition, PhonePe allows users to choose any service on its platform to receive rewards. The offer runs for a short period and will not be extended.
Also check:
Are you excited about using the PhonePe platform? Then carry on reading the below steps to follow them carefully.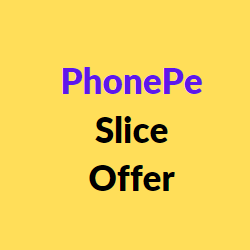 Slice PhonePe Offer Terms:
1. Get Flat Rs 100 Instant Cashback
1) No promo or coupon required to take offer benefits.
2) The users have to activate the Slice spark card to earn cashback rewards, and the offer is applicable on valid cards.
3) When users use PhonePe and make payments with a Slice spark card, they will get flat Rs 100 cashback.
4) Minimum purchase is required Rs 599 or above to complete this offer, and the offer is applicable once per user.
5) Users can also submit the billing copy if they did not receive any cashback reward after making payments.
6) This offer is applicable only for PhonePe users and not valid for an extended period.
How to Avail Slice Phonepe Offer:
1) First, go to the Phonepe website from the given link or download its play store app.
2) After going to the Phonepe app, tap on the register section and add your details like phone number and OTP.
3) Then, use the verification code and logged into the PhonePe platform to use its online benefits.
4) Now, you will redirect to the Phonepe app dashboard and tap to choose any of the given categories.
5) You can choose recharge, electricity, DTH, rent payment, loan repayment, book a cylinder, and more.
6) If you select electricity, then you need to have a good bill which consists of all the information.
7) then select your state, billers, and provide K number > next, proceed to the confirm button to complete this action.
8) Before going to the payment page, you have a valid Slice spark card > now, download its app from the Android store.
9) Then, click to do online registration, and after going to the main page, tap on the card to activate it.
10) Now, move to the PhonePe app and move to the page, which you have earlier added the bill detail.
11) Lastly, on the payment page, select Slice card as a payment method and make your transaction online.
Conclusion:
Use your Slice card on PhonePe and pay for your online service.
Have you earned your total cashback under this Slice PhonePe offer wall?
Share your experience using Slice card and tap on the free recharge offers to visit its page and explore all.
Slice PhonePe Offer FAQs:
Can I add slice card to PhonePe?
PhonePe merged with thousands of payment service and Slice is one of the part of it. So you can add your Slice card to make PhonePe payments.
How can I Earn Cashback from PhonePe?
You can earn cashback from PhonePe after making a valid payments.
At this Point Check Related Offers:
Finally Watch Related Video:
Click to watch this fantastic video and know about its instant cashback offer benefits.
SlicePay Spark instant Cashback offer