Slice PVR Offer: I am here for you to bring an excellent deal on PVR movie tickets with the Slice app.
Get a movie ticket with the Slice card with all the below advantages:
Cashback on online.
Rs 150 cashback on account.
Movie ticket with cashback reward.
And more advantages.
To be honest:
For the first time, I got a movie ticket from PVR in 2018 with the rewards, and then I started using PVR for cashback rewards.
Which movie do you want to see at the PVR cinema? Which cinema do you like most to watch new movies? Comment me all answers.
Keep continuing reading below to avail this Slice PVR offer!
PVR is the Indian theatrical cinema chain available in more than 70 Indian cities like Chennai, Chandigarh, Ahmedabad, Bengaluru, and many more.
The users can use it and make an online or offline movie ticket at a good value. Other than that, the PVR cinema provides more facilities to its users.
Know about the offer. Today, Slice has brought a fantastic deal with the PVR that is, if customers book tickets or order food with a Spark card, then they will receive cashback.
Also check:
How much are you excited about? Tell me and follow the below offer steps to redeem the cashback.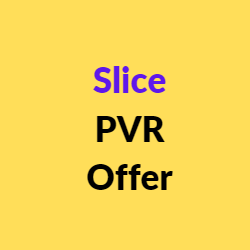 Slice PVR Offer Terms:
1. Get Flat Rs 150 Cashback on Tickets
1) The customers can earn cashback on movie tickets at PVR cinema after a successful booking.
2) Also the users order the food & beverages at PVR cinema offline for Rs 500 or more to earn cashback.
3) The minimum order value is the same for ordering food and movie tickets.
4) Make a minimum payment offline with the Slice spark card to avail of the cashback reward on PVR tickets under this offer.
5) Also, cashback will credit to the user's Slice account within a few hrs after making payments.
6) Spark will end on 15th November 2022, so make payments before this date.
How to Avail Slice PVR Offer:
1) Visit the Slice website from the available offer link and check the page to learn about its services.
2) To use it, you need to open your camera on your phone and point to the scanner to scan the QR code.
3) Then, the download link will appear, so install this app on your smartphone from a link or Android store.
4) Also, accept all the permissions like SMS, camera, storage, and more it needs for accessing it.
5) Now, open the signup form online and make a self-registration with valid credentials.
6) Next, put the phone number & get a verification code for verification and secure your account.
7) Also, you can use the Slice invite code and then submit all the credentials to get access to Slice for use anytime.
8) On the dashboard, you will see a blank card and then start activating it by dragging or dropping it.
9) When you get the Slice spark card, visit the PVR cinema of any locality and purchase a movie ticket.
10) If you want to purchase only food or beverage item with the Slice card, then do it.
11) After the successful payments of Rs 500, you will earn a cashback reward.
Conclusion:
Purchase movie tickets at PVR cinema and earn cashback instantly.
What have you decided to purchase at PVR with the Slice?
I suggest you offer, tell me the name and freely checkout free recharge offers.
Slice PVR Offer FAQs:
Can I use Slice card on PVR for payments?
Yes, you can use the Slice card and make an online payments with it, so you can also earn cashback
Will I receive cashback on movie tickets?
If you transact with the Slice spark only at PVR, then you will earn 100% cashback.
At this Point Check Related Offers:
Finally Watch Related Video:
Understand about all the offers after watching this
Slice Card All Offers Explain | Slice Spark Offers | Slice Card Offers