Superdry ICICI Offer: Here, I will speak about a new ICICI offer with the Superdry platform.
After using the Superdry platform, you will get all the benefits, including:
10% cashback on online shopping.
Cashback on online transactions.
Up to Rs 4000 with ICICI cards.
And more benefits.
Forsooth:
I had already grabbed the cashback reward when I made an online shopping from the Superdry with ICICI cards.
Do you want to earn cashback money into your pockets from Superdry shopping? If yes.
Then, it is the way to grab it, and just you have to jump into Superdry this ICICI offer!
Superdry is an international company or can say that it is a British fashion brand, which is available in most of the countries. So the customers can quickly go shopping.
It has opened physical stores across the nation, where it keeps all types of clothing items. Today, Superdry has come for a new cashback offer.
However, Superdry and ICICI teamed up to bring cashback offers, which gives cashback benefits to its customers while shopping.
Also check:
How much are you excited about this offer? Tell me and read the offer terms before following the procedure.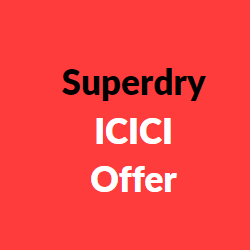 Superdry ICICI Offer Terms:
1. Get 10% Cashback Up to Rs 4000
1) The users will receive a 10% cashback reward from the Superdry if they do online shopping.
2) Customers will get 10% cashback up to Rs 4000 to their pocket once they complete an order with ICICI bank cards.
3) This Superdry offer is applicable on making a minimum transaction of Rs 2500 and valid for a limited time.
4) Also, the offer is not valid using the ICICI bank Amazon Pay credit card, whose card number starts with the first six digits (431581).
5) Offer is not run for a long time as it has an expiration date of 31st March 2022.
How to Avail Superdry ICICI Offer:
1) Firstly, you can visit the Superdry website on your browser by searching it or from the given link.
2) After that, press the profile icon given on the right top page and become a new member of Superdry.
3) Thirdly, add your registration details like email address, phone number, password, gender, and captcha verification.
4) Once you confirm your identity or verify yourself, then click on the below button and make your new account.
5) After doing an online registration of your Superdry platform, then you can log in with these details anytime.
6) Now, it's your turn to log in to Superdry and explore the categories from the menu icon.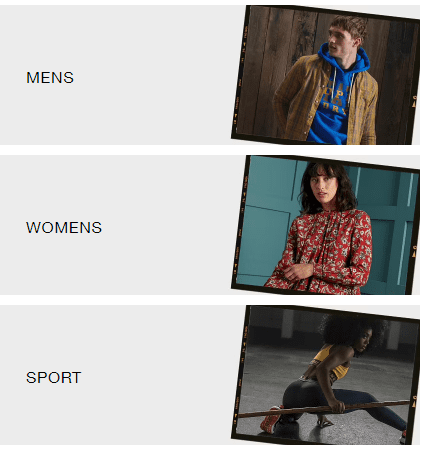 7) Then, tap on the product items and read the deep description of that particular product to purchase it.
8) Now, press on the product to add them into the cart/basket, where you can complete the purchase of your order.
9) After that, you have to get your ICICI bank card and if you do not have one, then take any of your bank cards.
10) Next, visit the Superdry cart and fulfil your payment with the given bank card to earn cashback.
Conclusion:
Use your ICICI bank card on the Superdry to purchase fantastic items.
How much cashback did you get under this Superdry ICICI Offer?
Tell something about the cashback reward through the below box and check some free recharge offers.
Superdry ICICI Offer FAQs:
Is Superdry accepts ICICI card payments?
Absolutely, the users can make payments with the ICICI on Superdry to purchase men or women items.
Is Superdry Chinese or Japanese?
Superdry is an international brand that means this platform is found in the United Kingdom.
At this Point Check Related Offers:
Finally Watch Related Video:
Watch this related video about the Superdry promo code.