Supr Daily Freecharge Offer: In this post, I will determine a new Freecharge Supr Daily offer.
Redeem below offer benefits by downloading the Super Daily and Freecharge app:
Cashback on online groceries.
Up to Rs 100 cashback on Supr Daily.
Order groceries with some cashback.
And much more.
Indeed:
I have earned some percent of cashback from this online Supr Daily store.
How much do you save mostly on fruits and vegetables, Rs 5 or Rs 10 or 15? Comment down.
Let's kick into this Supr Daily Freecharge offer!
Today, Supr Daily has various types of fruits and vegetable items. It is located in most Indian cities like Bengaluru, Pune, Delhi, Gurgaon, Noida, and much more.
It has been the most beloved platform for Indian customers for a long time because it consists of all groceries items and is delivered to the consumer house.
Currently, it has come up with Freecharge to bring a new cashback offer, where the members can save up to Rs 30 cashback.
Also check:
Are you agitated to participate in this offer?
Then, also read the offer terms before jumping into the offer.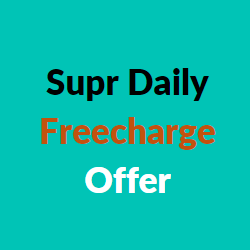 Supr Daily Freecharge Offer Terms:
1. Get Up to Rs 100 Cashback on Grocery Items
1) No coupon is required for this Supr Daily offer.
2) The members will earn 25% cashback of up to Rs 100 on ordering the online groceries with the Supr Daily platform.
3) This offer is not valid for more than one time and applicable only on Tuesday to avail the offer benefits.
4) Cashback offer is not run for an extended period, and it will be expired on 31st July 2022.
5) There is no minimum transaction requirement, but users must fulfill their eligibility to get cashback.
6) Use Freecharge Pay Later and make amount of your grocery items.
How to Avail Supr Daily Freecharge Offer:
1) Firstly, visit the Supr Daily and check out its web page or directly install its app from the Google play store.
2) When you download the Supr Daily app, then tap on the log-in button to sign in with your old account, if you have.
3) If you want to become a new member, tap on the register button to make a new account.
4) Fourthly, enter your phone number and get a code to log into the app.
5) After logging in to the Supr Daily platform, go to the profile page and add more information.
6) Now, open the Freecharge app if you have or download it from the online store.
7) Inside the Freecharge app, create your own account and log in with another account.
8) Once your account is created on Freecharge, you can use it anywhere for online payments.
9) Now, if your account is ready, then go to the Supr Daily app and add some fruits or vegetable items into the app cart.
9) Then, go inside the cart and check your items properly before adding a home address.
10) Now, make your payment with a Freecharge wallet to get your groceries at your home.
11) Once you get your groceries, then the cashback will deliver to the Freecharge account in a few days.
Conclusion:
I hope you will get the entire amount of cashback in the Freecharge wallet.
How much cashback did you get through Supr Daily?
Share your experience in the suggestion box and check some free recharge offers.
Supr Daily Freecharge Offer FAQs:
Is Supr daily owned by Swiggy?
Swiggy acquired this Supr Daily platform in 2018.
Is Supr Daily available in Delhi?
Supr Daily is available in various cities like Mumbai, Pune, Delhi, and more.
At this Point Check Related Offers:
Finally Watch Related Video:
Watch and know how to order free products from Supr Daily.
How to order FREE Products from SUPR Daily | Any Reviews