Swiggy Onecard Offer: In this offer, I will explore a new Onecard offer with the Swiggy brand.
Say Hi to Onecard and use it for receiving all the below advantages:
30% off on Swiggy orders.
Up to Rs 100 online discount.
Save on food orders.
And more advantages.
To be sure:
The last time I visited the Swiggy online store, I saw a Onecard offer deal and used it instantly for the reward.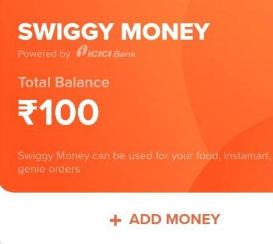 Have you ever done this? If you never did, then tell me you want to get benefits from Swiggy.
Then dive straight into this Swiggy Onecard offer!
Swiggy is the best food delivery platform where it delivers orders per customer requirements. When it was launched in India, then it merged with millions of local restaurants.
However, Swiggy provides offers in partnered with the banks or online merchants like Paytm, Amazon, Freecharge, Mobikwik, ICICI bank, HDFC bank, and many more.
Today, it has come with the Onecard merchant, which offers huge discounts.
Also check:
Do you have read all the things about this offer? If not, then keep continuing reading paragraphs and steps as well.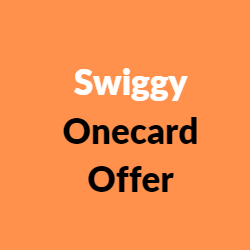 Swiggy Onecard Offer Terms:
1. Maximum Discount Up to Rs 100
1) Use this coupon code: ONECARD100
2) The customers will get a 30% discount from the Swiggy platform after opening an account and making an order.
3) Discount up to Rs 100 will reduce after using the Onecard on the Swiggy orders.
4) Maximum discount value up to Rs 100, but the minimum transaction limit is Rs 249 to avail of this offer.
5) Offer is applicable once per customer and valid on making payments with the Onecard metal credit card.
6) Also, this offer is valid till 15th December 2022, and it is applicable once per user per card.
7) No multiple payments are accepted, and only the Swiggy & Onecard users can use this offer.
How to Avail Swiggy Onecard Offer:
1) Firstly, tap on the Swiggy platform from the given link and download the app from the Google play store.
2) If you do not have the Swiggy IOS app, then download it from an Apple store.
3) Now, open the Swiggy app on your smartphone and then log in with the activated mobile number and password.
4) Fourthly, verify your phone number with a verification password, which you have received.
5) Enable the smartphone location by enabling the GPS service or manually setting your site.
6) Then, tap on the given search bar to find the best restaurant in your area and order some delicious food items.
7) You can find the delicious food directly from the menu bar of different categories and then add it to the basket.
8) Now, visit the basket and check your order to complete it > you need to add the delivery address, and also, you need Onecard.
9) So, start your process to get a metal credit card from the Onecard app and get your card.
10) When you Onecard will deliver at your doorstep, then open it and go to the Swiggy order page.
11) Next, proceed with the payment and choose the credit card option to make your transactions.
Conclusion:
Share this offer with other friends, so they also take benefits.
Which type of food did you order from the Swiggy platform?
Comment my answer in the suggestion box and explore all these free recharge offers.
Swiggy Onecard Offer FAQs:
Can I use Onecard on Swiggy Orders?
Yes, the Onecard users can use their metal credit card on the Swiggy.
Does Swiggy Offers Discounts?
Swiggy provides discount offers to its customers, where they can save money on online orders.
At this Point Check Related Offers:
Finally Watch Related Video:
Start watching a video and learn about it.
How to use swiggy coupans code via onecard #swiggyinstamart swiggy instamart best discount upto100rs