Tanishq SBI Offer: Today, I will discuss a new SBI offer with the Tanishq app.
Make a payment for your gold items and get the following rewards:
Rs 4000 online discounts.
Buy gold and save money.
Instant discounts on payments.
And more free rewards,
Have you ever purchased Jewelry in online stores? If you have not yet purchased, you can check the Tanishq digital platform for free.
What brand of Jewellery would you purchase from Tanishq? Keep your posted answer in the comment section.
Tanishq is the brand of Indian and which is an excellent Jewellery company that provides several fantastic items.
Main headquarter of Tanishq is in Bangalore, India and also know about it, the Titan is the parent company of Tanishq.
Also check:
Are you interested in this deal? If your excitement is too high. Then read the offer terms below and the steps as well for following.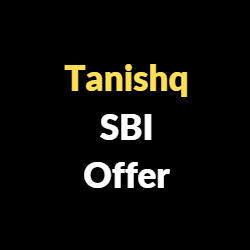 Tanishq SBI Offer Terms:
1. Get Rs 4000 Instant Discounts
1) No coupon code is required to get this offer, and the discount value is automatically reduced.
2) When a user visits their nearby Tanishq store and buys some gold, then they can instantly save Rs 4000.
3) Maximum Rs 4000 discount amount will be disbursed from the Tanishq company to a single customer.
4) Also, this Tanishq SBI Offer is applicable for once, and there will be no other offer will be clubbed with this offer.
5) Minimum transaction of Rs 80,000 for this offer.
6) The payment must be done with the SBI credit card before 19th October 2022.
How to Avail Tanishq SBI Offer:
1) Firstly, you must visit the Tanishq store if you are new and do not know about the stores.
2) Search for the nearest Tanishq store in your area or at a minimum distance.
3) Once you find a particular physical store of the Tanishq, then move there and check all the gold jewelry.
4) You can not check out the silver or other ornaments because this offer applies to Gold ornaments.
5) Now find the best gold jewelry or ask your partner before buying here and then proceed to the next step.
6) You forget something the offer is only for SBI users, so you need to take your SBI credit card during payments.
7) If you do not have one, wait until activating your bank card or go to the bank and request to activate your credit card.
8) They give you time to wait to activate your SBI bank credit card.
9) You can take another card in this situation with his permission, and then you can move to the counter section to fill in your payment.
10) Then, verify your card on the counter so that the discount amount will be reduced.
11) Once you confirm your order, then complete your payment with this bank credit card.
Conclusion:
Avail of this Tanishq SBI offer by activating your bank card.
Which gold ornaments will you purchase from the Tanishq store?
Keep sharing the jewelry name, and check out the free recharge offers.
Tanishq SBI Offer FAQs:
Can I buy Tanishq gold from its platform?
Tanishq launched its digital site for its customers, so they can purchase the Jewellery from there.
Is Tanishq gives you a discounts?
Yes, Tanishq gives you a huge discount and if customer shop from store, then they will get Rs 4000 discount.
At this Point Check Related Offers:
Finally Watch Related Video:
Play a single video to learn about this Tanishq combo offer.