Trivia Dice Website: In this post, I am going to introduce an old dice game named Trivia Dice.
After using the Trivia Dice website, you will get the below benefits:
Indeed:
Last week, I have earned Rs 5 Paytm cash by using the Trivia Dice website.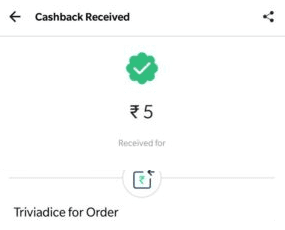 Do you want to get the benefits from the Trivia Dice website?
Let's dive deeper into this offer post!
Trivia Dice is an old ludo game platform where the users can earn free coins and Paytm cash.
The framework of this website is attractive so users can not bored while playing the ludo games.
There are three types of challenges which are given below:
Also if the users select dice challenge then they will earn 2 TD coins on every correct answer. And on daily challenge users will earn 100 TD coins on every correct answer.
In the special challenge, users will get 20 TD coins on every correct answer.
Also check:
Have you heard any type of posts that offer both coins and Paytm cash?
Then continue to reading and follow the below-given steps.
Trivia Dice Terms

:
1. Get Rs 5 Bonus on Creating Account
1) If the user creates a new account on the Trivia then he/she will get 100 TD coins and Rs 5 Paytm cash.
2) If the players use multiple accounts on the same device then the triviadice team blocks their account.
3) If the user has already entered the mobile number then in the future it cannot be changed.
4) 100 TD coins is equivalent to Rs 1 and it will be automatically converted on withdrawing the cash.
5) Also, the user can pay any extra charges on redemption.
How to Get Rs 5 Bonus on Creating Account:
1) Firstly visit the Trivia Dice website on your smart device or desktop.
2) Secondly click on the pencil icon to create a new account.
3) Now enter your full name, email id, password (use suggested password), mobile number (enter Paytm account number), and terms & conditions.
4) Or login with your existing Google account or Facebook account.
5) After entering all the necessary information click on the create account button.
6) And then you will get your verification link on your Gmail account, click to verify it.
7) Now login with your existing email id and password.
8) After that you will be redirected to the Trivia Dice website homepage.
9) And then complete all the challenges and earn free TD coins.
10) After winning the dice games you can redeem your cash into the Paytm wallet.
11) Lastly, you will get your transaction message from the Trivia Dice website.
How to Play the Trivia Dice Challenges: 
1) Now open the Trivia Dice website on your smartphone.
2) After that continue with your existing login account.
3) Now open the Dice quiz option from the Top of the webpage.
4) After clicking you will be able to play the dice games > select and complete all ludo game challeneges.
To conclude, if you regularly visit Earningkart then you will get a more amazing post.

How much did you earn from this Trivia Dice and referral offer post?

Now share this Trivia Dice with your friends on social media platforms and speak a few words in the comment section.

Check some free recharge tricks offers to get extra benefits.

At this Point

Check Related Offers:
Finally Watch Related Video:
In this video, you will know how to play dice games and earn TD coins on the Trivia Dice website.
Earn More Money With Trivia Dice.com II In Telugu